John Legend's "All of Me" leads the Billboard Hot 100 for a second week, while Paramore, which has been charting on the Hot 100 for seven years, notches its first top 10 at last, as "Ain't It Fun" ascends 13-10.
"All" holds at No. 1 despite drops for a second straight week in the Hot 100's three metrics (airplay, sales and streaming). It rules the Radio Songs chart for a third week (184 million audience impressions, down 5 per cent, according to Nielsen BDS); slips from its No 2 peak to No 3 on Streaming Songs (7.3 million US streams, down 3 per cent, according to BDS); and holds at No 4 on Digital Songs, where it peaked for eight weeks at No 2 (144,000 downloads sold, down 11 percent, according to Nielsen SoundScan). The piano ballad does, however, log a 4 per cent gain to 2.9 million on-demand US streams, staying at No 2 on the subscription services-based On-Demand Songs chart, which it crowned for four weeks.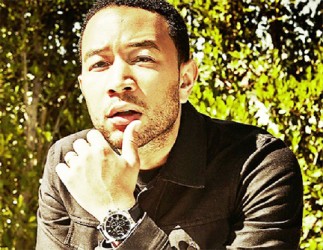 "All" concurrently leads the sales/airplay/streaming-based Hot R&B/Hip-Hop Songs chart for a second week, the Pop Songs airplay ranking for a fourth week and Adult Pop Songs for a second week. It previously topped Adult R&B Songs for seven weeks and Rhythmic Songs for one frame.
"All" narrowly holds off Pharrell Williams' "Happy" (2-2) on the Hot 100, where it ruled for 10 weeks before "All" dethroned it last week. How narrowly? "All" boasts just 0.1 per cent more chart points than "Happy," marking the closest battle for No 1 since Kelly Clarkson's "Stronger (What Doesn't Kill You)" displaced Adele's "Set Fire to the Rain" by a slightly smaller points margin on the Feb 18, 2012, chart. (Last week, "All" won by just less than 1 per cent.)
"Happy" spends a fourth week at No 1 on Streaming Songs (9.3 million, up 7 per cent); stays at No 2 on Radio Songs, which it led for eight weeks (145 million, down 11 per cent); and holds at No 3 on Digital Songs, which it commanded for 11 weeks (156,000, down 11 per cent). Meanwhile, Williams' follow-up "Come Get It Bae" debuts on the Hot 100 at No 82, spurred by a No 35 start on Digital Songs (46,000, up 235 per cent).
Rap rookie Iggy Azalea ranks at Nos 3 and 4 on the Hot 100 for a second week, although her first two chart entries switch spots: her own "Fancy," featuring Charli XCX, rises a spot to No 3, trading places with Ariana Grande's "Problem," on which Azalea is featured, after it debuted at No 3 last week.
"Fancy" dominates On-Demand Songs for a second week (3.2 million, up 8 per cent); flies 4-2 on Streaming Songs (7.4 million, up 12 per cent); holds at No 2 on Digital Songs (216,000, down 2 per cent); and surges 14-11 on Radio Songs (71 million, up 29 per cent).
After launching last week with the eighth-biggest opening sum ever for a download, "Problem" claims dual Streaming and Airplay Gainer honours on the Hot 100 despite its 3-4 drop. It roars 9-4 on Streaming Songs (6.5 million, up 46 per cent) and blasts onto Radio Songs at No. 30 (41 million, up 70 per cent). It leads Digital Songs for a second week, but tumbles by 46 per cent to 235,000 downloads sold (a not atypical plunge for a song that makes a lofty sales start ahead of its radio build).
Rounding out the Hot 100's top five, Katy Perry's former four-week No 1 "Dark Horse," featuring Juicy J, holds at No 5; follow-up "Birthday," meanwhile, jumps 29-25, led by its 34-22 vault on Radio Songs (46 million, up 20 per cent) and No 42 debut on Digital Songs (38 million, up 20 per cent).
DJ Snake and Lil Jon's No. 5-peaking "Turn Down for What" rebounds 7-6 on the Hot 100, reaching the Radio Songs top 10 (12-9; 72 million, up 18 per cent). It returns to its No 5 peak on Digital Songs (6-5; 130,000, up 3 per cent) and descends from its No 6 highpoint to No 7 on Streaming Songs (6.2 million, down 4 per cent). It crowns Hot Dance/Electronic Songs for a seventh week.
Jason Derulo's No 3-peaking "Talk Dirty," featuring 2 Chainz, drops 6-7 on the Hot 100; Justin Timberlake's "Not a Bad Thing" holds at its No 8 Hot 100 peak, powered by advances on Radio Songs (5-4; 116 million, up 9 per cent) and Streaming Songs (24-21; 2.4 million, up 4 per cent); and, Idina Menzel's No 5 hit "Let It Go" remains at No 9.
Paramore posts the week's lone new Hot 100 top 10, as "Ain't It Fun" climbs 13-10 to mark the pop/rock trio's first top 10. The band had previously peaked as high as No 24 with both "The Only Exception" (2010) and prior single "Still Into You" (in November). The group first appeared on the chart in July 2007 with "Misery Business," which went on to reach No 26.
"Fun" lifts 9-7 on Radio Songs (78 million, up 14 per cent), with airplay accounting for 50 per cent of its Hot 100 points; sales make up 35 per cent and streaming, 15 per cent.
The track holds at No 13 on Digital Songs (74,000, down 11 per cent) and departs Streaming Songs after a week at the chart's No 50 anchor position (1.7 million, down 2 per cent).
The song concurrently becomes Paramore's first No 1 on Hot Rock Songs (2-1). It displaces Bastille's "Pompeii," which drops to No 2 after 12 weeks at No 1 (and falls out of the Hot 100's top 10, dropping 10-11).
With its bouncy, pop lean and gospel-choir bridge, "'Ain't It Fun' is very different from songs we've written in the past," says Paramore lead singer Hayley Williams. "I grew up on pop, funk and soul. We really got to show off our roots in this song."
Around the Web