The second issue of makin style is completed and set to hit newsstands in Guyana and New York early next week.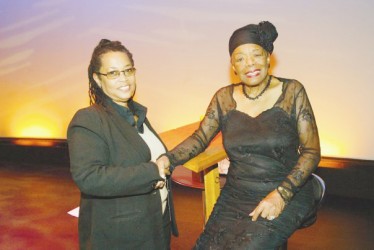 The magazine, produced by Sonia Noel, features the Broadway show Fela!, the cast of which includes Guyana-born dancer Oneika Phillips; a tribute to Maya Angelou by Sherry Dixon who has the distinction of having once interviewed the legend; food; music; fashion and sports. The St Lucia Jazz & Arts Festival is also featured.
Meanwhile, according to a release the magazine's website, www.makinstyle.com has been re-designed and re-launched and there will be a constant feed about everything in arts and culture in the Caribbean.
The magazine will be available at Shell Gas Station, Giftland OfficeMax, German's Restaurant, Gordon's Stationery, Williams' Supermarket and Kamal 2k Gift Shop in Guyana. In New York: Pam's Bakery, Sybil's Bakery & Restaurant, Tota's Bakery & Restaurant, Caribbean Vision Center, and Smally's West Indian Store will have copies for sale as well as Some 'Ting Nice Caribbean Restaurant in Massachusetts.
Around the Web