Jennifer Gibson fell in love with Guyana the first time she visited back in 1996. She followed her heart and now lives here, in Diamond, East Bank Demerara from where she commutes to 'A Sanc-tuary', a children's home on the Linden-Soesdyke Highway where she is committed to caregiving and teaching.
The Barbadian, who is a textile artist has now written what might be considered a go-to book for textile artists. She says she admires the determination of budding textile artists hence the reason for her publishing Helpful Hints for Textile Artists, which was released in April of this year, published in Guyana by Graphic Masters.
She says the objective is to enlighten these artists on ways to enhance their work and designs. Content ranges from tie-dye, appliqué, embroidery and batik to name a few. "Within its pages you will also find secrets to how I maintained that competitive edge, from years of experimenting, trial and error. I believe knowledge is nothing if not shared," Jennifer expresses.
This book is only the first of three she wants to publish; the remaining two would deal with the subject of natural dyes, and stain removal. "Research is ongoing. It is my intention to see textile decoration taken to higher levels in this resourceful country," she says.
Helpful Hints for Textile Artists can be purchased locally directly from her and she can be contacted on 592-617-9149. At present the opportunity is being explored, to have it sold online in e-book format.
But just who is Jennifer Gibson?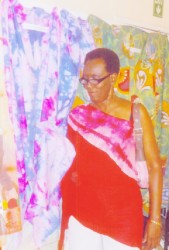 Jennifer Gibson was born in Barbados. The third of four children (she has two sisters and a brother) she considers herself privileged to have been brought up in an extended family, and can recall her grandmother assisting their mom in firmly instilling proper manners, and moral values in them. "She took us to the Anglican Church twice on Sundays, this didn't include Sunday school which we also attended. It was useless objecting as we were left no options," Jennifer says, reminiscing on her childhood days. It was actually in the church that her interest in arts came alive.
In her adolescence she became a member of the Anglican Young People Association which is an organisation to re-energize the youth movement in the parish. The group did art and craft among other things.
But before that, as a young child, "I would draw in all my books, as well as on other surfaces. My mom lashed me repeatedly for this, but I persisted to the point where I even drew her lashing me."
This was the last time for her mom to do so. After looking at the drawings of her lashing her daughter, she had a good laugh, Jennifer says.
Jennifer was well-rounded. She played netball ran in the hundred and two hundred yards races, and high jumped for her school; she even tried her hand at basketball.
During her early teenage years she also wanted to become Barbados' first female jockey, but her mother strongly objected to this so she did not pursue it.
Jennifer highlighted that the talent of art somewhat ran through her family. She said that her elder sister, Marva DaSilva has a painting on display in the National Museum in Barbados although she never took art as her profession. The younger sister taught the subject at both primary and secondary levels while one of her cousins who resides in the United States is a great artist in her opinion.
After graduating from secondary school, Jennifer joined DePAM (De People's Art Movement) while attending evening classes at the Extra Mural Department at the Cave Hill Campus of the University of the West Indies. Textile art now became more and more intriguing for her.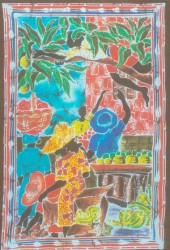 Her first experience in batik came when she became employed with the now defunct Barbados Batik Export Limited. She expressed that her knowledge of art and design from her classes were an advantage. She was taught the skill (batik) on the job. Prior to this, she had worked for a few months with Intel Barbados Limited, attaching dye to computer chips. She also worked with some of the prominent designers in Barbados, doing painting, tie-dyeing and batik on numerous outfits and yards of fabric before setting up her own business "Creative Hands."
According to the Carib-bean artist, being blessed with the creative nature gave her the ability to expand into the area of decorative novelty rum bottles, for the renowned Foursquare Rum Factory and Heritage Park. She was even contracted for the job after doing this only a short while. "Some of my friends saw it as a menial task for me, but it paid big, and at the end I was mastering painting on another surface. It presented me with both an opportunity, and a challenge which I welcomed," she said.
The facility she said has a play park constructed from some of the old machinery, and factory parts, where she also painted faces and offered lucky dips on weekends. "The kids enjoyed this immensely, which made me quite happy.
"I was at home in that atmosphere, as my inspiration and motivation are drawn from nature and experiences. I see art as a personal appreciation for God's creation and an elevation for my life in general."
Throughout her life and artistic career she has exhibited her work across the Caribbean through the Barbados Craft Guild, Guyana Women Artists Association and the Art and Craft Association. She has also done fashion shows and expositions: the Caribbean Festival of Arts (Carifesta), Caribbean Gift and Craft shows, GuyExpo and Femination to name a few.
Jennifer is the recipient of many awards including the Barbados Investment and Development Corpora-tion National Exhibition where she received a Bronze Medal. She also received a Blue Ribbon for textiles and the Best Display in the category of Textiles in Guyana chosen in 2012 by UNESCO.
Jennifer is looking to the future with optimism as she believes with God all things are possible and she can do all things through Christ Jesus whom she said strengthens her. In a spiritual sense, she expressed that those comforting words give her the courage to go on. She fondly noted that her heart goes out to the youth, especially those not academically inclined and less fortunate. "As a caregiver and teacher in a children's home, I know the many challenges youths face, and the uphill battles. Oh yes! I too made mistakes, who doesn't? I had struggles and fell down but I didn't stay there. I wish to say to you that everyone has been blessed with a gift and skill from God. Find yours and use it, I implore you to stay away from bad company and remember the creator in the days of your youth." Jennifer went on to offer her advice to the youths, "Strive to be leaders, not followers and do not be afraid to stand apart, to make that difference. It is not easy, I know but you are not ordinary, you are extremely valuable."
Around the Web