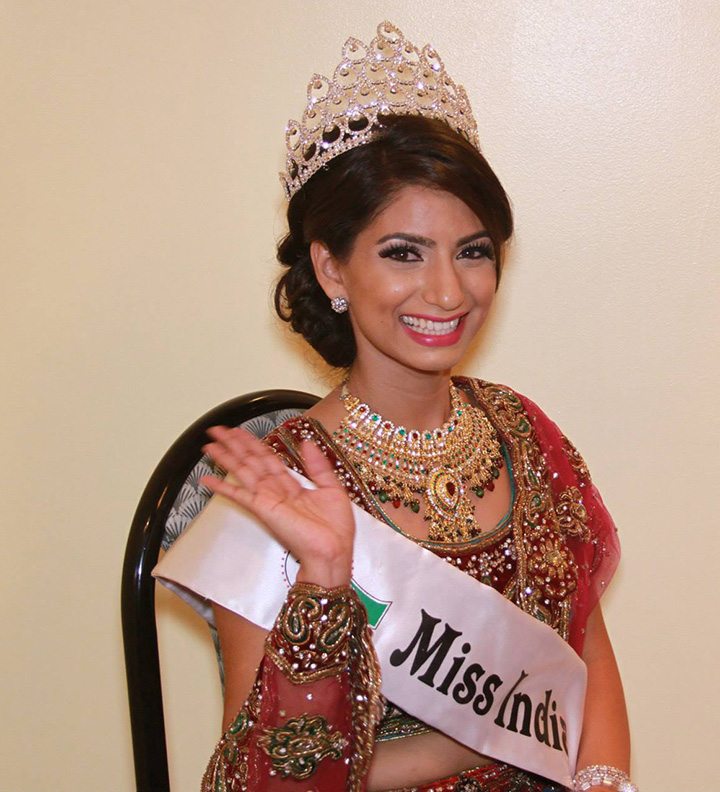 When Divya Sieudarsan was a little girl growing up she used to love watching the Miss Universe pageant every year, so much so that her grandfather would tease her and say "I'm going to send you up to become Miss Universe." She would blush and cringe at the same time; at that point she wanted to be a basketball player.
Yesterday she would have come closest to her granddad's predictions when she took part in the Miss India Worldwide Pageant in Dubai, United Arab Emirates, competing against 40 other contestants from around the world.
According to the pageant's franchise holder, Divya was one of the stand out contestants in the pre-pageant and turned heads in a Sonia Noel design which received a lot of queries.
The reigning Miss India Guyana had turned down a few local pageants she was approached to get involved in, because pageantry was not something she saw herself in, although she loved the beauty of the competition.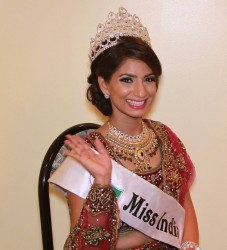 In 2009, the Miss Guyana Universe team was interviewing potential candidates at the University of Guyana, Tain campus and sent the talented Deryck Moore to scout out Berbicians. Divya was in the middle of a table tennis match and at the time had no idea who Deryck was, when he approached her and pulled her aside. He explained who he was and tried to convince her to apply to become a contestant. "Of course I laughed and turned him down," she explained but her friends then tried convincing her to at least apply and then she remembered her grandfather. "I applied, got selected and that was the beginning of my quest in pageantry."
After that pageant, she modelled at Guyana Fashion Weekend; then did her first video ad and performed at the opening of the Skeldon Estate doing a dance; all of that was in the same year which she described as very exciting.
Divya was a contestant in the first Miss India Guyana pageant in 2011 where she was second runner-up after which she started modelling more frequently; emceeing events and co-hosting on the television show Apsara Illuminate. When you see Divya and say to yourself that looks like a familiar face, well it is probably because she appears on the many GT&T billboards throughout the country.
But what made this girl who used to turn down pageants into a pageant queen?
"With age comes wisdom. I realised that I have developed into a mature, determined and motivated individual. Ready to be a voice of Guyana, instead of complaining about issues affecting us I decided to take action," she said. "Examining my strengths and my growth over the years I thought it was high time I gave pageantry another shot, pageantry gives us that stage in which we can focus on shedding light in the darkest corners, highlighting the ugly truths such as child abuse and other issues affecting us."
With this growing mentality she sent in her application to the Miss India Guyana Franchise. The panel tallied and determined the winner; "Which happened to be me! I was ecstatic! I had to pinch myself a few times to believe it!"
She said: "It has always been a dream of mine to represent Guyana on an international stage where I can share with the world, how remarkable this land of ours really is, of course its beautiful people and all that we have to offer."
As a child she was very shy and quiet before, as she explained, a little tomboy took over. "I remember seeing the boys climb the coconut trees we had in our yard and when no one was around I would try over and over again to do the same! I reached the top eventually but with a ladder!"
She became very active in sports as a pre-teen; basketball, soccer, floor hockey, flag football, badminton, baseball, beating up boys and a bit of cricket. She never owned a Barbie doll.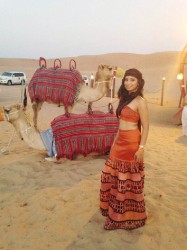 "I did sports recreationally, never [professionally] pursuing any. Where I lived in Berbice, everyone treated each other like family, the neighbourhood was very safe and such a friendly atmosphere! We had big open spaces to run around in, beautiful scenes, warm and caring people around and tons of fun! Number 63 beach is one of my absolute favourite places! There are so many reasons why!"
Divya finds motivation all around her. "I motivate myself to do better every day in every task I undertake. The issues surrounding us definitely play a key factor, the support I am receiving also encourages me to keep going but my ultimate motivation for this pageant is to try and put a stop to the inhumane acts being committed towards the innocent children of this planet."
She explained that abused and neglected children are eleven times more likely to engage in criminal acts as adults. "I want to help put an end to this! We need to protect our children; simultaneously we will be protecting our future."
She believes that by being a positive influence and doing her best others will see the importance of what she is doing and why they should join her quest and support her in raising awareness.
"I choose to use my crown to highlight a crisis we are faced with, which is child abuse. Having this crown gives me a voice [with] which I can make a difference. As Mahatma Gandhi said 'Be the change you want to see in the world'."
Inspiration for her comes in all forms, "Every day we are inspired by the people and things around us. I respect and look up to a lot of people," but amongst her long list is her family. She explained that she always wants to make her parents proud.
Divya was born on March 5, 1989 at the Skeldon Hospital. She grew up "simultaneously" at Number 69 village and Number 47 Village, Corentyne, Berbice with her family, whom she describes as her "backbone"; she further stated that she cannot bear to imagine not having them around and she truly feels blessed to have such wonderful people in her life.
She is the elder of two girls, her sister being 22 years old. "My sister and I share a very close relationship. Growing up we weren't always sure who really had our backs then we learnt that we could always count on each other no matter what the situation was. Ever since we've been inseparable! She is one of the prettiest, smartest young women I know; definitely makes me a proud big sister."
As for her parents, she was not sure where to begin. "They are the most hard-working, loving and caring parents anyone can ask for. My parents and my grandparents were strict on us growing up. We had rules and boundaries…
We are a tightly-knit bunch, including my extended family. I escape to Berbice every chance I get to spend time with them; my family is my happiness."
Divya has completed a Diploma in Accountancy and is currently enrolled to continue her studies, while working as a marketing representative. She also does event planning in her spare time.
She sees herself with a family of her own in a few years. "I have not decided how many kids as yet," she laughed. As for her career, she believes in keeping her options open but does see herself owning a successful business in the future.
Divya absolutely loves being outdoors, being around nature and all of its beauty. She describes herself as adventurous. "I am always one for adventure, anything that is exciting and fun, you can count me in but I also enjoy the quiet moments, relaxing in the countryside, watching movies and spending time with my loved ones," she said.
Around the Web