After weeks of competition through a reality show aired on Hits and Jams Television network (HJTV) Soyini Fraser was selected to represent Guyana at the Miss Jamzone International Pageant, beating out two other contestants Faydeha King and Onesha Hutson.
To say Soyini has pageant experience would be putting it mildly. She was the 2010 Miss Earth Guyana, first runner-up at the 2011 Miss World Guyana pageant, third runner-up of the Miss Princess of the World 2011 pageant hosted in the Czech Republic and Miss United Nations 2012.
So what draws this beauty to pageants? Well exactly that – her beauty and a dare. Her friend Meleesa Payne, had actually dared Soyini to enter the first pageant she did and now looking back she is really grateful that she was challenged.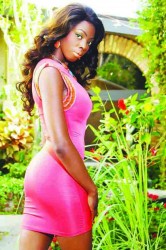 "Before becoming a pageant girl I, like most people, had a narrow minded view of what pageantry is. But after intense training I realised it runs much deeper than the glitz and glamour that most people often focus on. More than the personal grooming tips and transformations you are taught to find your inner strength, the strength given to women to face the life ahead. And also the strength you will need to represent Guyana on the international stage," Soyini said.
She feels that when the Guyanese public looks at her pageant life and realises all she has done over the years both in and out of Guyana they will have a new idea of what doors pageants can open for a young woman. Even now as she starts her reign as Miss Jamzone Guyana 2014 there are many ventures she will be making.
Asked what she believes can be done to strengthen the local pageant industry and make others' careers as successful as hers, Soyini opined that the Guyanese public is not sensitised enough about what pageantry really is and because of that they tend to just overlook the opportunities offered to Guyanese women. She urged that "the pageant community… come together and form a foundation for all the beauty ambassadors… and not only focus on equipping the girls for each aspect of their pageant journeys but ensure the Guyanese public is up to date with all the pageants that Guyanese women take part in and the necessary voting processes that come with them."
But why enter the Miss Guyana Jamzone Pageant? Well, according to her, why not? For her Miss Jamzone Guyana has offered several young talented Guyanese women the chance to represent their country at an international pageant right at home.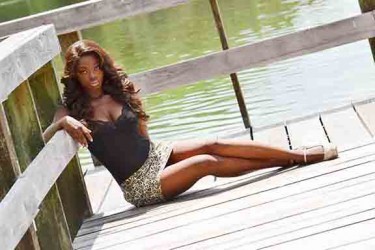 She said Jamzone has selected very strong representatives over the years and she feels she has what it takes to become a member of the elite group. Now that she has won the title she will be reaching out to them for guidance and tips for the international round where she will be competing with women from across the Caribbean.
Soyini had never been on a reality show to win a pageant and she considered that a challenge for her. She mentioned it was different from the usual pageant journey where you just prepare for the coronation night with preliminary competitions along the way. "You had to show more of your personality in order to win the hearts of both judging sector; the in house judges and the viewing audience at home, and that was not an easy task. But I embraced it and had fun all along the way," she said. "And when the night finally came to find out who will represent Guyana come August, I was elated to hear my name being called! A huge smile just stuck to my face and at that moment all I wanted to do was scream and do my 'lil' dance" she laughed.
Her inspiration throughout the pageant came from the many young women who would message her daily with words of encouragement, both in Guyana and from the international pageants she had entered over the years. "It was really an amazing feeling to know there is someone out there other than your family and friends who is rooting for you. And this is what kept me motivated throughout the competition."
During the competition the three contestants were tasked with creating a minute-long infomercial on promoting tourism in Guyana as their first project. The second week saw them extensively questioned by Guyana Times/TvG Entertainment reporter Bisham Mohamad; Stabroek News' Entertainment Journalist, Jairo Rodrigues and blogger of the Online-Runway and now The Scene's Fashion writer, Ashma John. The final week was the modelling and body competition before scores were tallied up from votes cast by Guyanese viewers through texting and points awarded by Judges Malcolm Ferreira and Feliz Robertson who are radio personalities for HJ's 94.1 BOOM FM and Coordinator of the Ms St Joseph High School pageant and co-partner for the Miss Guyana Earth franchise Wazim Khan.
For the next leg of the Miss Jamzone pageant, Soyini plans to give it her all. Each segment of the next round: cultural presentation, swimsuit, evening gown and final question are all vital to winning the crown.
The pageant committee and Soyini have already started the necessary preparations to ensure she is lacking in no area for the competition. And also very important is having the Guyanese crowd rooting for her. Over the course of the next few weeks Guyana will have the chance to get to know her even better. With all the right stuff Soyini Fraser can possibly be the first Guyanese winner of the Miss Jamzone International Pageant.
Around the Web