Some seven designers put their work on display for a worthy cause last month, in Sonia Noel's annual "Style Mission", which supported the Guyana Sickle Cell Association.
The event, hosted at the Guyana Pegasus Hotel, Kingston saw Andy Cummings showing a line of navy blue with black and white.
Deborah Mathias's Rave Design displayed beautifully crafted jewellery which is her forte along with fabric, ceramics and leather craft.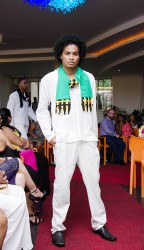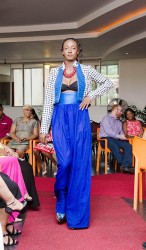 Winner of the Courts/Fly Jamaica Guyana Fashion Week Aspiring Designers Showcase Channey Wong's intricate black and white pieces were the pearl of the show, despite the smudge on the fabric of the first model's outfit.
Nachle Designs "Yours and Hers" by Hashim Alli and Melicia Pertab made its debut to loud applause. The eye-popping unique Western and Eastern fusion pieces revealed brightness, culture and complexity in the designs.
Neilson Nurse, who presented his designs under the brand Nandre's Creation, showed a line of black and whites with plain patterns and then bold splashes of colour such as bright green, orange mixed with blue and purple.
Meleesa Payne rolled out swimwear, followed by casual clothing – black and white stripes with bold red as well as some elegant professional wear.
Sonia Noel's Gents Collection which was highlighted at the Caribbean Fashion Week in Jamaica as well as her First Resort line were also on display.
One of the highlights of the evening was a Dutch Auction where two items were up for bid – a multi-coloured beaded butterfly necklace by Deborah Matthias and a shirt from Sonia Noel's Mariska's design. The necklace went for $16,000 and the shirt $8,000.
Hosts were Miss Guyana Universe Katherina Roshana and radio personality Merano Isaacs. Attorney Nigel Hughes was the auctioneer.
The charity event also saw entertainment from Jennifer Thomas who did a piece of poetry, Travis Bowen who sang several songs, and an Indian dance.
Among the audience were members of the business community, Caricom dignitaries, fashion enthusiasts and other designers and models.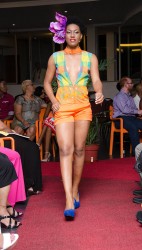 Minister of Health Dr Bheri Ramsaran who was supposed to be at attendance was not present to make his speech. He was later seen walking in the lobby nearly an hour after the show had concluded.
Brief remarks were made instead by a nurse from the Guyana Sickle Cell Association.
Comments

Kareem 'cKush' Lewis's latest song "Another Day" has been blowing up the airwaves on 94.1 Boom FM and 98.1 Hot FM since its release last month.

Poetry on a stool and tassa drumming are among the treats as the Rupununi Music and Arts Festival continues today at the Manari Ranch.

Police Constable of Brickdam Police Station Michael 'Smallie' Small placed third with his song "Help Meh Stop the Violence" at the Junior Calypso competition on February 3, at the Mahaicony Fun Park.

Renata Burnette has been lighting up the poetic stage for the last two years.

Reggae/dancehall singer and songwriter Owen Adams recently released his brand new single "Life Too Short".