In the near future, local fashion designer Rishma Persaud sees herself as a force for change by inspiring more Guyanese to be fashion conscious. She also sees herself advancing from being a local designer to hitting the international fashion scene.
Rishma has taken her designs to the region already. She recalls that in 2006 she did an international fashion show with the University of the West Indies in Barbados, where she designed a number of colourful costumes in "Caribbean flavour".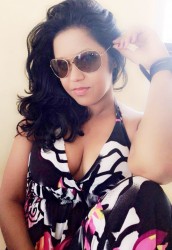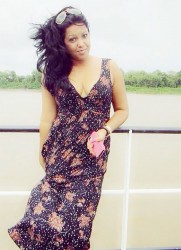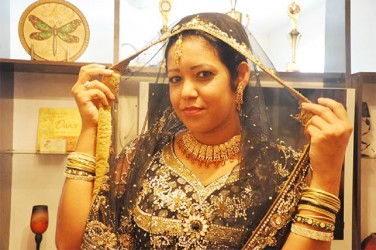 Some of her best showcases were featured in Style Mission in 2007, Carifesta X 2008 in Georgetown, Miss Guyana Universe, Indian Fusion and at least ten shows she can recall.
At the Miss Guyana Universe Pageants in 2009 and 2011, her designs won the Best Gown prizes. They were worn by Nandani Seecharan and Madonna Ghanie in the two respective years.
Rishma says she became very interested in fashion designing at the age of five.
Young Rishma would sit and make doll dresses using her mother's clothing and it was not long before she found out that using her mom's new top as material for dresses was not a good idea.
The fashion designer was born on the January 20, 1980 at Mon Repos, a small rural village on the East Coast Demerara, where she spent most of her childhood. She grew up with her single parent mother and her younger brother. They were very close since their family was so small.
Rishma had a very adventurous childhood although living in a poverty stricken community. She made the best of everything at her disposal; from coconut shells as makeshift toy pots and pieces of wood used to make kitchen scales, Rishma was very creative from a young age.
Life in her community was simple; the people were friendly and inviting. Most afternoons, she reminisced, you could find everyone from the youngest to the old playing games on the seawall since they were not that many forms of entertainment.
Rishma took courses in design and dressmaking after she finished secondary school; this was her calling. She attended Kay's Dressmaking and Designing School in 1996. After the Lamaha Street-based school closed she opted to do online courses and thus developed her art. From time to time she still pops in on classes and workshops around the city to better her skills. Rishma really started designing because of her love for her daughter who inspired her to fulfil her artistic ambition.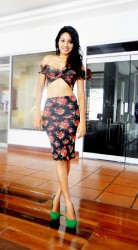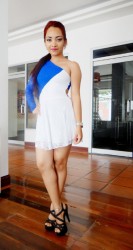 Being a single mom after a divorce also drove her to pursue her dreams and make something of her life since she wanted to set an example for her daughter, Lynda Hassan who is now a teenager.
Rishma wants her designs to mean something and she wants her daughter to follow a core of values she exhibits.
One of the designer's qualities is her self-motivation. Speaking to The Scene earlier this week she said that she wants to encourage everyone to pursue their dreams no matter how impossible it may seem.
Starting from where she did and being where she is today, making a name for herself, is proof that if you work hard and invest time and energy in your goals you can accomplish anything.
Her family and passion for designing motivate her every day to continue. Rishma's signature and preferable styles are mostly cocktail dresses in fabrics that are soft and stretchy in bold colours. And she also has a love for experimenting with embroidery. She thoroughly enjoys designing clothes that accentuate a woman's body. The contour for a woman's body to her is a design made individually perfect by God.
Rishma does not have a fashion idol per se but she does look up to designers such as Vera Wang and Chanel.
Most of the inspiration for her designs however are drawn from everyday people, fabrics, colours, textures and even body type.
She has a very active social live; some might say she is a bit of a social butterfly and of course she has a few hobbies, which include travelling, trying new foods (she said she is a bit of a food junkie), and seeing new people.
She loves taking part in charity events. On her own, she would drive around every week in Georgetown and take food (breakfast or lunch) for the less fortunate. Most people might find it strange, but she finds it rewarding to give back in any way she can.
Rishma has an office and work station in Sheriff Street, Georgetown where she designs for a vast number of clients.
She works extensively for 15 hours a day on average. Why? Well she strongly believes that there is no limit to what a person can learn, do and achieve.
It is this belief that is making her pursue Psychology, first in academics then a career since it is also something that she has the passion for. When it comes to family her future would be to invest more time with them.
On a daily basis, Rishma experiments with new and different designs, so expect a blast of unique and fresh designs from her in the days to come.
Around the Web