Mwanza Glenn's name is well known in fashion and designing circles, but his interests are much wider; dancing and acting are just two of them.
Mwanza told us that he first became interested in fashion designing around the age of nine. He recalled that there was a friend of his family's, the late Rawle Wilson, who was a graduate of the E.R Burrowes School of Art. "Rawley", as he was called, majored in leather craft and minored in ceramics and he would tutor the young Mwanza in those areas as well as fabric design, textile construction and colour manipulation.
"From those sessions with Rawley I learned how to apply artistry to fashion. I have so much gratitude for this guy that words are too small to say. He had become a family member," Mwanza said.
So what is fashion to this fashion designer?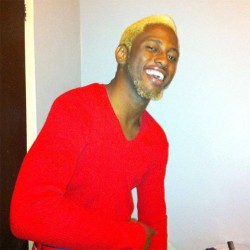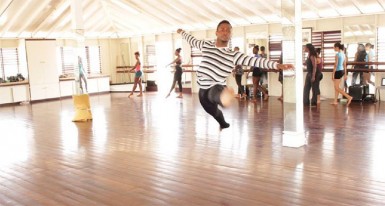 "Fashion in my book should be the expression of oneself, which may vary with one's moods. But people deliberately make silly choices….What drives me is the love of what fashion and life is about. The love to adorn a silhouette, paint the body with fashion…," he says.
Sometimes his clients inspire his creations; the consultation session is where he gets to know the client's sense of style. But his last collection, 'Mwanza' told people about him. "My mood, my character, my rise, my falls… To put it in a nutshell, I am universally inspired.
"Who does not have an idol? I mean everyone has one and my idol is the world's best sought after designer, most creative, the oldest designer alive, creator of the universe, the creator of you and I… God."
Mwanza's favourite style in designing is a look that can take you from day to night. His favourite colour to use is red because it looks great on everyone, according to him. However his personal favourite colour is green. His favourite fabric is stretch taffeta. After working for a few months with this fabric he said, he has found that it is the most versatile fabric he has ever used.
His dream is to eventually have a chain of retail outlets nationally and internationally. He would like to have 'Mwanza Glenn' become a household name.
Mwanza has shown at the Guyana Fashion Weekend/Week continually since 2011. He was a part of 'Reflection' from 2012 and showcased at the New Horizon Modelling Agency in Barbados earlier this year. He designed for the Miss Amerindian Heritage Pageant and the Ms Bartica Regatta Pageant last year. The year before that he designed for the Ms Guyana Universe Pageant, Ms United Nations Pageant, the Mother and Daughter Pageant and featured on Guyana Model Search/Designers Portfolio.
"Fashion is me. It is who I am, it is the air I breathe, it is the inspiration see, the colour, the designs, the construction technique, the detailing, fashion is my story. It is like I create a book (a collection) that is then sold by the pages… taken home by someone who appreciates that look and sometimes… cherished… or handed down to someone else. He or she can wear that piece on a given day when their body or mood calls for that sense of styling – my story becomes theirs. … I create every single garment knowing it has a placement on each and every occasion it is presented at. That's how important fashion is to me," Mwanza expressed.
Dancing and acting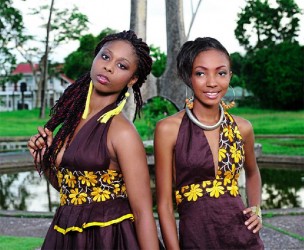 Mwanza has been dancing for over thirteen years. He is a graduate of the National School of Dance and currently a member of the National Dance Company under the directorship of Vivienne Daniels. "Dance is my second love," he said. "It is my [escape from] stress… and that why I choose to pursue it as an art that is part of my life."
Mwanza is also a choreographer and has taught dance at several schools, namely Richard Ishmael Secondary, Chase Academy, St Margaret's Primary, North Georgetown and others. His choreographies have been seen for several productions, including Let's Dance Studio's 'May Blossoms' in 2008, Carib Feedback's 'Obeah in Court', pageants and several others.
As a member of the National Dance Company, Mwanza has had the opportunity to perform on several national and international stages. Some of his most memorable performances were at Carifesta X, hosted in Guyana in 2008; the Union of South America Nations conference in Guyana in 2010 and the Re-signing of the Treaty of Chaguaramas in Trinidad at the 50th Anniversary celebrations in 2013.
Mwanza believes he should always try to better his talent. Over the years he has attended workshops including at the Ashe Performing Arts Company in Jamaica, National Culture Foundation Dance Interns in Barbados, Ian Douglas Foundation in Barbados, and a meeting with John Keen, Director of Keen Dance Theatre of the USA.
From 2007 to 2012 he played two characters on the radio serial drama Merundoi. First he played Travis, then the more famous Kevin from the Squires family. He was the art director for the short film Beached, which was written and directed by Kojo McPherson and funded under the President Film Endowment Project.
Scorpio and Georgetown born, 22 years ago, Mwanza grew up in a single parent home. He described his mother as very loving and supportive to any positive venture he wished to pursue, including his passions in fashion and dance.
He has one brother who is approximately fifteen years older who he grew up with. Because his mom always took care of nieces or nephews the house always had other children so he had np shortage of relatives his age. His childhood was filled with chatter and games, which he remembers as if it were yesterday. "It was just a peaceful family oriented scene" he said.
He attended Richard Ishmael Secondary School and Tutorial High. During his school years he had several placements at the Children's School Mashramani Dance Competition from 2003-2009.
He gained third place in Guyana Designer's Portfolio in 2012. He was also Guyana's representative for Mission Catwalk Season 3 in 2013 for the Caribbean version of Project Runway, filmed in Kingston, Jamaica.
Today he enjoys clubbing, though he doesn't go very often. He loves travelling and is fond of baking. Mwanza is often excited to meet new people; he has a passion for teaching and any involvement in youth and cultural development.
Off the runway he manages his business Wanza's Designs. He is a Fashion Consultant /Designer at Roxiann's Fashion and General Designs; he conducts consultations with personal clients, pageant styling and grooming, wedding planning, drafting patterns, sewing, sketching.
He believes that it is any aspiring artist's greatest fulfilment to be the best at what he or she does, education in that specific field is a necessity so he sees himself pursuing a degree in Fashion Design overseas at Parson's or the Fashion Institute of Technology.
Mwanza wants to have his brand established, "I see a multi-coloured store, with scented candles, wine served on customer's entrance, a posh ambience to shop and indulge in a local high class shopping experience."
Mwanza is steadfast on taking up other artistic projects before he thinks of having a family. He said he has some goals to acquire before he can take on other obligations and responsibilities. He gives himself ten years before settling down.
Comments

At nineteen, Daniel Ifill is not just an ordinary teenager still trying to figure out a career but rather he is miles ahead as he is already a dancer, model and makeup artist who when he's not working his skills backstage on some performer's face is flaunting his stuff on a stage he takes charge of.

Young ladies from the ten administrative regions will today be sashed at the Everest Cricket Ground in anticipation of next Saturday's crowning of a new Miss Indigenous Heritage at the National Cultural Centre.

Tomorrow evening talented youths from the deaf community will take to the Theatre Guild stage in an evening of entertainment where dances, drama and fashion will be featured.

Craft artist and designer Natasha David has for almost a decade now been creating unique jawdropping pieces made mainly of natural materials which many would discard never dreaming that they could be used to create art.

Guyanese Paulla De Souza, who is touted as one of the Caribbean's and South America's most sought-after make-up artist (MUA), is scheduled to be in Guyana for a Beauty Empowerment Celebration on September 24, aimed at giving women the 411 on how to effortlessly look chic and gorgeous.