By Alysia Christiani
For many Caribbean families, the immigration story is a familiar one. So many of us have moved to other countries, or have family members who have left their homeland in search of a better life, that it may seem there is nothing new that can be said about the experience. But in her one-woman show, Demerara Gold, actress Ingrid Griffith proves otherwise.
Demerara Gold, written by and featuring Guyanese born actress Ingrid Griffith, tells the semi-autobiographical tale of seven-year-old Ingrid, who, along with her nine-year-old sister Dawn, is left in the care of her two grandmothers when her parents are granted visas to move from Guyana to the United States.
Ingrid's grandmothers, one a strict recluse who peeps out at the world from behind her curtains, the other a saved and sanctified woman of God, keep a tight reign on the girls for what is supposed to be a short period of time, until Ingrid and Dawn's visas come through. But it is a long four years before the girls are reunited with their parents. And once together, it isn't quite the fairy-tale life that Ingrid imagined it would be.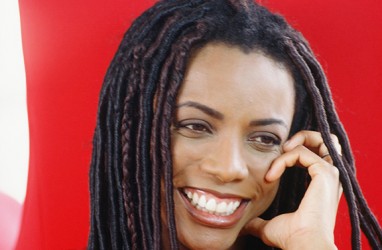 Directed by Margit Edwards, Demerara Gold, which completed a successful two-week run at the Midtown International Theatre Festival in New York this summer, held another two shows at A.R.T/New York's South Oxford Space in Brooklyn, NY on October 17 and 18. The audience, which appeared to be made up predominately of Caribbean-Americans and Caribbean nationals, thoroughly enjoyed the show. There was much laughter, emphatic sighs, and whispered affirmations as they identified with many of the situations and emotions Griffith brought forth.
As the daughter of Guyanese immigrants myself, this story is not new to me. Many of my cousins came to the States preceded by their parents, who, after a few years, were able to send for their children. The situation could be found in many of my friends' families as well and I never gave it much thought. Until I saw Demerara Gold.
Told from a young girl's point of view, the devastation in Ingrid's face and hurt in her voice when she learns that she and her sister cannot go with their parents will break your heart. And her refusal to give up on her parents' promise to return for them will move you to tears. Griffith truly brings to life a side of the immigration story not often told. Of the children left behind to wait in limbo, hoping and praying that the next letter will be the one with the news they are longing for.
The first half of the show paints a rich portrait of Ingrid's life in Guyana. From being picked up at school on her father's bike to silently refereeing a cricket match from her grandmother's window, we are drawn into her simple activities. But even more gripping are the moments when Ingrid's zest for life clashes with her grandmother's mission to keep her on the straight and narrow. Moving effortlessly between characters, Griffith's portrayal of the power struggle between them elicits much laughter and head nods as the audience remembers similar admonishments and struggles in their childhood.
In the second half of the show, Ingrid and her sister arrive in the States excited to be reunited with their parents and overwhelmed by their new home and life. It is here in America that the family's problems come to a head.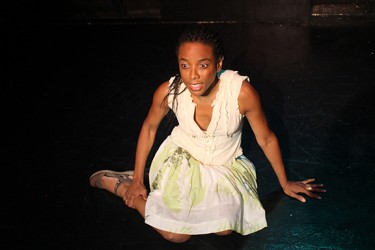 Both financial and cultural issues plague the parents. Moments after Ingrid and her sister arrive in their new home, mom must leave for work. Her dad, an important man in Guyana, struggles with his perceived lower class status in America. These issues strain the parents' relationship and leave Ingrid sitting up at night listening to them battle it out.
And through it all Ingrid is coming of age. Working through the usual issues that puberty brings, namely developing a sense of self and exploring her awakening sexuality, Griffith easily conveys the awkwardness and inquisitiveness of a hormone-addled teenager.
It is these moments that make the audience most uncomfortable. In general, Caribbean folk are not big on open discussions of sexuality, so when Griffith 'goes there', portraying Ingrid and her friends naive discussions and experimentation with sex, there is much seat-shifting, throat-clearing and sidelong glances from the audience.
And these reactions are a testament to Griffith's acting skills. The sparse set (a lone chair centre stage is the play's sole prop) limited costume, lighting and sound effects, puts the responsibility of transporting the audience back to Burnham-era Guyana and 1970s America squarely on Griffith's shoulders. A lesser actor would crumble under the pressure but Griffith shines in her ability to bring to life the many funny, awkward and sometimes sad scenes of those years.
Though in many ways Demerara Gold is a very Caribbean story, in particular a very Guyanese story, immigrants from any country will be able to identify with its themes. From nostalgic remberances of home to the hilarious and touching moments of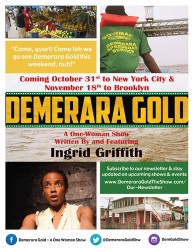 acclimating to a new country, Griffith has created a show that reaches across cultural lines and speaks to the experiences of many.
Demerara Gold is scheduled for another two shows, October 31 in New York City and November 18 in Brooklyn, NY. Griffith's team is working to book additional shows in New York and other cities as well, namely Toronto, Canada and Georgetown, Guyana. You can find more information on Griffith and Demerara Gold online at DemeraraGoldTheShow.com
Comments

GEMS Theatre Productions presents a new half an hour sitcom "Days Like Dese," a family-oriented comedy that surrounds the Rupauls, a middle-class Guyanese family.

Just three weeks short of the staging of the Miss Guyana Renaissance pageant, twelve ladies are kept busy perfecting dance routines, walk and speeches.

Twenty-year-old Keisha Brazh under the African name 'Serwah Mawusia,' is representing Ghana.

Put to task at the age of just ten to help to create the family's Christmas cake propelled Rabina Shivraj into a world of baking and decoration and today she has learnt the art of hooking her customers, first with her creativity and secondly with the taste of her creations.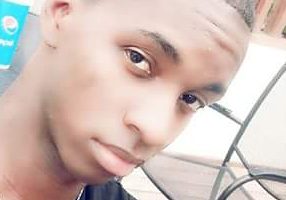 By Joanna Dhanraj With August fast approaching, the contestants of the Mr and Miss Guyana African Roots 2017 pageant are busy perfecting their skills for their big nights.