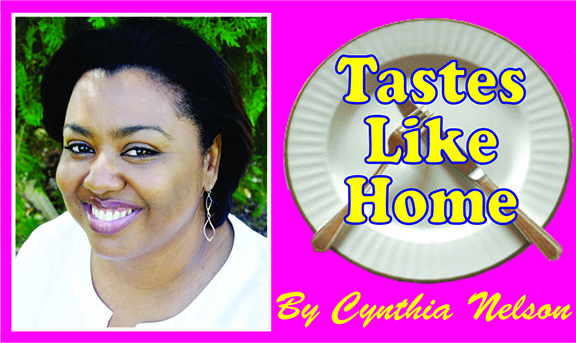 Hi Everyone,
We have been chatting for several years now, so much so that things have reached the stage where I have to start some of our conversations with one of these phrases: Remember I told you… Last year I shared with you… If you have been reading me for a while… Well this is going to be one of those occasions.
Sometime around October last year, remember I told you about a phone conversation I had with one of my very good Bajan friends, Paula? Among the many things I shared with you was our collective learning about 'stretch-out' breadfruit. To quickly recap, stretch-out breadfruit is breadfruit that is boiled and sliced lengthways. Cutting the breadfruit lengthways is why it is called stretch-out breadfruit. The breadfruit can be served boiled, or boiled and then pan-fried and eaten with meat or seafood stews or a fry-up of salt fish or smoked herring.
The breadfruit trees here in BIM are laden with many of the perfectly round, green-skinned fruit. There are certain things in Barbados that are not necessary to be bought (although they are available for sale in supermarkets and at several vendors at the weekly markets). Fresh bay leaves, ripe tamarinds, golden apples, mangoes and breadfruit are items you can get freely and easily. Last weekend a friend gave me a breadfruit, a yellow-meat breadfruit. I did not realize until a few years ago that there was white-meat and yellow-meat breadfruit. Did you? The differentiation is made when the breadfruit is cut open and you see the colour of the meat (flesh). People have their preferences; some like the white-meat breadfruit because it is starchier than its yellow-meat counterpart. Others prefer the yellow-meat because it is creamier when cooked. Breadfruit Cou-cou is mostly made with the yellow-meat breadfruit.
Listen man, you got me digressing! Time to get on to the stretch-out breadfruit.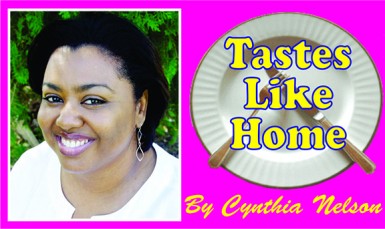 Once I got the breadfruit I knew I was going to be cooking my breadfruit and eating it stretch-out style! Saturday morning, whilst on my weekly trip to the market I stopped to ask one of my ole' lady Bajan friends about how she cooks stretch-out breadfruit. She smiled, "Wuh you know 'bout stretch-out breadfruit?" It was a rhetorical question. I laughed, "tell me how to make it", I said. She instructed me as follows:
"Cut the breadfruit in half first, then cut each half into about 5 – 6 long pieces, then peel it and put it in a pot with water. Take one of these (she points to the onions on the counter of her stall), peel and cut it in half, then take a lil bunch 'uh these (she picks up a bunch of fresh thyme) and get a hot pepper and cut it in half. Add all of that to the pot with the breadfruit and water. Add in some salt. Stir everything together and put the pot to boil. All the things you add in will give flavour to the breadfruit when it cook."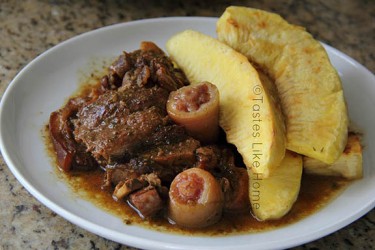 I made a mental note of the instructions and then asked, "What if I put a couple of pigtails in the pot instead of adding regular salt?" She beamed and said, "Yuh know de ting!" I was given further instructions – "Now if you want to fry the breadfruit when it's done cooking, just slice it thinner, still lengthways, and then fry it." "Yes mam!" I said and made my way home.
The thing about these seeming simple recipes is that there are little things that phenomenal home-cooks do to raise the quality and taste of their food. Paula and I thought it was a simple matter of just boiling the breadfruit and cutting it lengthways, and sure, it would taste good. However, think of how the breadfruit would taste when boiled with the herbs and other aromatics and seasoned with the salt from the pigtails that would also impart some of its meaty flavour to the cooking liquid. Even without physically tasting it, you can tell the difference, can't you? This is the kind of cooking knowledge and advice I live for.
I thoroughly enjoyed my stretch-out breadfruit. I ate it over a period of 3 days for late-lunch and breakfast each day.
You got this right? You don't need a recipe to make stretch-out breadfruit? Half the breadfruit, cut it into thick wedges lengthways and remove the skin. Put the breadfruit into a pot with water and toss in some fresh herbs, onions, cut hot pepper and a piece 'o salt meat and boil until a knife inserts easily. If you want to fry it after boiling it, cut the cooked wedges into thinner slices (about ½-inch) and pan fry.
A note before I sign off this week: many of you have bought copies of my book – Tastes Like Home, My Caribbean Cookbook since the official launch a few years ago and I know that you would like to have your book signed. Next week Saturday – June 7, I am going to be at Austin's Book Services from 10.30 am – 11.30 am so you can drop by and I'll sign your book(s). Stop by even if you just want to say Hi.
Cynthia
Cynthia@tasteslikehome.org
www.tasteslikehome.org
Around the Web