Roraima Airways Chief Executive Officer Gerry Gouveia who has had to weather a storm during the holiday period over the glitches that caused Dynamic Air to twice—on Christmas Eve Day and Old Years' Day—fail to provide service to passengers travelling to Guyana remains insistent that given Guyana's circumstances, particularly the need for the country to benefit from more airline service between here and North America, Dynamic remains "a good option" for the country.
'I should make it clear that my view on the issue of the role that Dynamic can play in addressing our current air travel challenges has nothing to do with the recent travails of passengers arising out of the recent incidents," Gouveia said. "Those are not occurrences that we can either dismiss or trivialize and some of the responses to the failure to provide a service were entirely understandable. My point is, however, that however aggrieved people may have felt, from the standpoint of Guyana as a country there is a need to look beyond those occurrences to what a partnership between a foreign airline and a local aviation company can do to enhance the reliability of travel on that vital route between Georgetown and the United States. From our standpoint as a partner in the relationship we have got to look past the recent problems and go forward as long as we are convinced of the greater good of the service that it provides."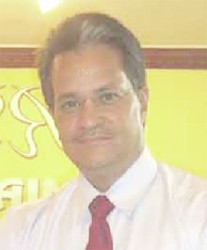 Gouveia, who described Roraima as a "strategic Guyanese partner" with Dynamic Airways, told Stabroek Business that his company was serving as the local sales agent for Dynamic flights and was also responsible for ground handling for aircraft arriving in Guyana.
The occurrences over the holiday period that badly affected passengers and which spilled over into ugly scenes have raised questions about the likely effectiveness of the recently formed partnership between Dynamic and Roraima Airways, though Roraima insisted that there was evidence even during the period when the difficulties were at a height that the service had worked well. "Of course we cannot overlook or dismiss service-delivery glitches even if it is only one person that is affected but when account is taken of the fact that more than 6,000 passengers were provided with service during that period as against 128 who sought and received refunds it would be altogether unfair to conclude that the service did not perform well," he said.
Gouveia, who showed this newspaper video footage of angry scenes amongst passengers in New York awaiting word on the Dynamic flight to Guyana and related an incident involving an outgoing passenger at his Barima Avenue office, told Stabroek Business that the passenger disappointment associated with those occasions on which Dynamic was unable to provide service in a timely manner could not justify some of the responses amongst passengers. "Glitches that prevent airlines from providing a timely service are not uncommon in the industry but it would not be true to say that passenger responses are always like some of those that we saw recently," he said.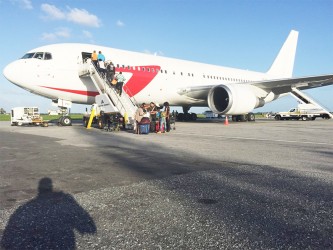 The Roraima boss said he was particularly distressed over the fact that airport staff, "who have nothing to do with delays and cancellations but are simply there to provide particular kinds of services" often become targets of abuse "and sometimes worse."
And beyond the disappointments and unfortunate occurrences associated with the recent incidents it was clear that the demand for regular, reliable and efficient travel between Guyana and North America had become an important national priority, he added. "The loss of the Delta service last year was a serious blow to air travel between Guyana and North America. The fact is that we need regular and reliable scheduled services on that route. Occasional charters are not enough. I continue to believe that with hard work and a commitment to providing an efficient service the partnership between Roraima and Dynamic can fill that gap. A number of things including tourism promotion and the unrestricted movement of people wishing to move between here and the United States are riding on this service and we are determined to put the recent glitches behind us and deliver the service that is required. That is the way in which the aviation sector works. It confronts challenges, puts those challenges behind it and moves on."
Around the Web