Mud Lot on Access Road in Kingston is usually a quiet, virtually deserted area in North Georgetown, and one you probably would not associate with the hustle and bustle of commerce or traffic. That may well be about to change. Mud Flat sits in the shadow of the Marriott Hotel which, having generated a considerable measure of interest during its conceptualization and construction is now being readied to accommodate guests.
That would be a good thing for a customarily quiet part of the city and better for Sven and Jewel Wills, the proprietors of The Cottage Restaurant and Café, situated on Mud Flat.
The strategic advantage of the location has to do with the fact that guests of the Marriott are likely to catch a glimpse of The Cottage. Its bright colours are more than a trifle arresting.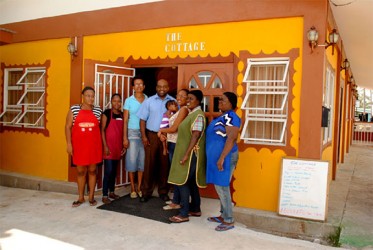 The Willses are banking as well on such patronage as might derive from the growing global food tourism culture, the name given to the practice by some travellers of simply wanting to enjoy indigenous cuisine. They reckon that guests of the Marriott or the Pegasus might, on occasion, be inclined to dig into some good old Guyanese cooking.
The Cottage opens its doors for business at 07:00 hrs. At the centre of the breakfast meal is the facility's 'Power Porridge,' prepared with barley, sago, cornmeal or custard powder. The 'power' derives from the addition of two indigenous barks, sasparilla and kapadulla, both of which are linked to virility. A 16-ounce cup of 'power porridge' costs $160. Breakfast also includes bake and salt fish, eggs, roti or puri and curry. None of these cost in excess of $300.
The proprietors are heartened by the response The Cottage has secured from local patrons. Lunch, the meal that is most in demand, caters for both vegetarians and meat lovers.
When Stabroek Business visited The Cottage at lunchtime on Tuesday the range of dishes on offer included fish sautéed in pineapple sauce, Hawaiian Rice, red peas cook-up, plain brown rice, dhal, cabbage and potato salad. Patrons can mix and match their meals to suit their preferences for a cost of $600 to $700.
The Cottage has capacity to seat around 18, though, as is customary with small, urban eating houses, it relies primarily on take-out customers. The Willses are, however, mindful of the fact that their customers might one day include guests of two of the country's high-profile hotels.
From a local perspective, the emergence of
The Cottage, coinciding as it does with the completion of the Marriott Hotel, may well point the way for a surfeit of commercial investment in a corner of the city that has traditionally been ignored by local investors.
Around the Web