Guyana's bauxite industry continues to be "stagnated" and facing "serious challenges" despite an increase in exports, according to Natural Resources and Environment Minister Robert Persaud.
In a written response to questions put to him by Stabroek Business, Persaud said that between 2010 and 2013 there had been an increase of approximately 500,000 metric tonnes of bauxite produced locally and this is expected to increase, based on the demand for high-quality bauxite from Guyana which is sometimes used for blending purposes by other exporting countries.
He said that while other metals and alloys had flooded the international market the demand for primary alumina was likely to create new opportunities and potential for Guyana's bauxite.
The minister's assessment of the state of the bauxite industry in Guyana would appear to suggest that the country is pinning its short to medium-term hopes for increased global market share on the fact that in January last year, Indonesia, up to then the fourth largest producer of bauxite in the world, banned the export of its unprocessed ores, reportedly as part of an initiative designed to push local miners to move into higher value processing operations instead of shipping the country's raw bauxite to foreign buyers.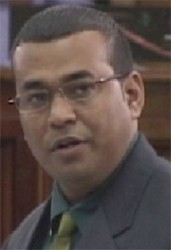 Persaud said that prior to the imposition of restrictions on the export of bauxite from Indonesia the Asian producer had accounted for about 18 per cent of global production. "Without a doubt this will favour Guyana's bauxite industry," he said.
Meanwhile, according to Persaud, First Bauxite Company's scheduled commissioning of its Bonasika Mine this year takes account of increased global demand for bauxite, a circumstance which he said is already affecting some aluminium industries. He disclosed that there are "other bauxite companies that have applied for prospecting licences" and that these are currently being processed by the Guyana Geology and Mines Commission (GGMC).
And according to Persaud, "meaningful changes" have been taking place in the bauxite sector over the past ten years. He noted that the Bauxite Company Guyana Inc (BCGI) in which the Russian giant Rusal has a majority stake had invested more than US$150 million in the sector over the past ten years. The company, along with its subsidiaries Oldendorff and Rodhe Nielson provides employment for more than 700 persons.
Persaud noted that despite a fluctuating and unstable bauxite market and a depressing trend among key bauxite producers BCGI, continues to record a "steady performance." Figures provided by the Ministry of Natural Resources and the Environment indicate that over the past year the company had mined 1.35 million metric tonnes of ore and that exports had reached 1.27 million metric tonnes.
Meanwhile, Persaud disclosed that BCGI had completed 95 per cent the works on its new mine site at Kurubuku the operational life of which is planned for 15 years. Persaud said that apart from building a new mine "from scratch" the Kurubuku project had included the creation of a hauling road. The company, he told Stabroek Business, "has also built and equipped a new production complex with a wharf to crush, dry and offload bauxite for export."
Estimates provided by the minister, meanwhile, put BCGI's total investment in Kurubuku by the end of 2014 at more than US$20 million. The Kurubuku project is expected to provide jobs for around 500 Guyanese for 15 years while the extended BCGI project will provide employment for an additional 320 workers, contractors and sub-contractors, according to the Minister.
In Linden, Persaud said, the now privatized Chinese-run OBMI/Bosai had invested more than US$100 million in the operations there over the past ten years.
"Bauxite has been a challenging industry in Guyana typically requiring subsidies in various forms from the Treasury," he said, adding that under privatization the "risks have been transferred to the private" and today "… the privatized companies … are testimony to the government's commitment to preserve the bauxite industry."
Persaud asserted that the industry "stood at a crossroads during the 2001 – 2004 period." He noted that in 2001, Alcoa pulled out from Guyana and Aroaima Mining Company (AMC) was scheduled for closure. In 2003 when Bermine had collapsed following the loss of major international markets and when a deadline had been reached regarding an International Monetary Fund (IMF) demand that government stop subsidizing Linmine government had continued to undertake initiatives to keep the sector alive. He said rather than accept closure, government had taken over AMC in 2001 and, following requests from workers at the then Bermine it had merged that operation with AMC in 2003 and subsequently, in 2004 and 2006 had executed agreements to "outsource invest/management to Rusal," following which the operations were privatized to Rusal in March 2006.
With regard to Linden, Persaud said government had opted to restructure rather than close the bauxite and kept the entity alive until privatization in December 2004.
Comments

Local gold mining syndicates are awaiting a commitment in writing from Natural Resources Minister Raphael Trotman which an official of the umbrella body administering the affairs of syndicates says should kick start operations by the groups comprising hundreds of small miners.

A joint public/private sector initiative to realize the setting up of a multi-purpose agro-processing plant in Guyana will be high on the agenda of the second Inter Ministerial Roundtable discourses between government and the Guyana Manufacturing and Services Association (GMSA), Stabroek Business has been informed.

By Raymond F. Trotz ITC Liaison, Guyana: Coconut Industry Development for the Caribbean (CIDC) It has been almost a year since the staging of Guyana's first Coconut Festival and there have been many queries on its outcome and possible repetition.

At least thirty young Guyanese from various local communities will shortly be experiencing a novel learning opportunity designed to equip them with skills that will open up possible employment opportunities in the country's mining and oil and gas sectors.

Even as Guyana becomes increasingly preoccupied with the 2020 timetable for the commencement of oil and gas recovery, the ongoing efforts of Trinidad and Tobago to diversify its economy away from the fossil fuel ought to be an object lesson for the new kid on the block as far as the fossil fuel sector is concerned.