Safety and Health Consultant Dale Beresford has told Stabroek Business that if reports regarding possible links between a defective storage tank at the Caricom Rice Mills Ltd (CRML) and last Friday's death of company employee 17-year-old Threeion Gittens are sustainable then critical questions arise about "the diligence or otherwise" of both CRML and the Ministry of Labour as far as their safety and health obligations are concerned.
"If the reports that allude to a hole in a storage tank at CMRL are true the question arises as to whether the safety and health personnel at the plant were doing their jobs properly and if, more worryingly, they were aware that there might have been some measure of risk to Mr Gittens. At the same time it should be borne in mind that the Occupational Safety and Health Department (OSH) of the Ministry of Labour has a responsibility to carry out inspection checks at both public and private sector operations. It would also be helpful if the investigation can make us aware of the last time that the Ministry conducted an inspection at CRML and whether or not there was indeed a fault with a storage tank," he added.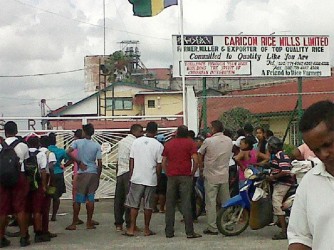 And according to Beresford who is also Vice Chairman of the National Advisory Council on Occupational Safety and Health (NACOSH) there is a high probability that the rate of workplace accidents, including fatalities, will probably continue to rise in the future. "If I were asked to say why I believe this to be the case I would say that there is insufficient official sensitivity to the importance of safety and health in the society. I would also say that, on the ground, at both the public and private sector levels, there appears to be no care for the law that requires that workplaces have functioning safety and health committees. Then there is the issue of the lack of capacity on the part of the Ministry of Labour to cover all of its routine safety and health checks at public and private sector entities across the country," Beresford told Stabroek Business.
"Of course, the likelihood of workplace accidents will probably increase in
circumstances where the economy is expanding and we are erecting bigger buildings and where workers might be using modern and dangerous tools which they may not have been properly trained to use."
Asked to assess the attitude of local business support organizations to safety and health in the private sector Beresford said there was no persuasive evidence that BSOs place safety and health high on their lists of priorities. "Their seminars and discourses deal with issues like human resource development and expansion of their business operations but not a great deal ever gets said publicly about safety and health. It may well be that there is an awareness on their part that some of their members are culpable as far as lack of compliance with safety and health regulations is concerned," Beresford said.
Meanwhile, Beresford alluded to a report in another section of the media regarding an offer of compensation made to the parents of the dead teenager by the milling company. "I believe that the point should be made that an offer of compensation implies an admission of some culpability in the accident that caused the young man's death so that as far as liability is concerned if an offer of compensation has indeed been made that is something that the investigators will have to make a note of."
Around the Web