Small business operators who, late last month, received more than $20 million in grants under the Micro and Small Enterprise Development (MSED) Project through the Low Carbon Development Strategy Guyana Redd+ Investment Fund can anticipate stringent post-disbursement monitoring from the Small Business Bureau (SBB) to ensure compliance with the conditions under which the grants were allocated, the Bureau's Credit Guarantee Fund Manager Gillian Griffith has told Stabroek Business.
In a briefing provided for this newspaper Griffith alluded to the fact that the Bureau's Grant Manual dictated that only "regularized small businesses" can benefit from the facility. "Businesses must register with the relevant regulatory bodies and acquire licences and permits required for particular operations," adding that the Bureau is prepared to provide businesses with support in the completion of transactions involving the Guyana Revenue Authority, the National Insurance Scheme and the Deeds Registry.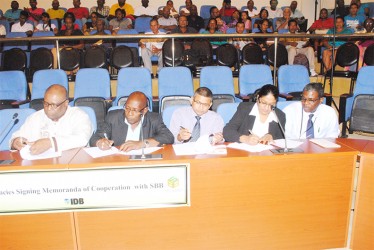 Beneficiaries of the grant have signed agreements which speak to compliance with various requirements including stipulations with regard to how funds allocated should be used. In the first instance, beneficiaries will only receive a "first tranche" of the overall sum allocated and Griffith said beneficiaries will only be able to draw down on subsequent tranches if the Bureau is satisfied that monies are spent in accordance with the stipulations set out in the manual. She said that one such stipulation is that clients account for disbursement by way of bills.
And according to Griffith grant beneficiaries will be subjected to "verification visits" from the Bureau to ensure that they are in compliance with the stipulations of the grant manual 'on the ground.' She said that "in some instances there will be the requirement of mentoring and hand-holding for start-ups with a view to ensuring that clients develop the requisite capabilities."
Griffith said it was particularly noteworthy that the project had facilitated financing for "perceived high-risk ventures" with no credit history and that university students who had opted to use this opportunity "to create their own jobs" were also among the grant awardees.
Meanwhile, Griffith said in her brief that the success of the programme "will be measured by the jobs created and or sustained" adding that relevant training programmes available through the training component of MSED project aimed at providing additional support to the grant beneficiaries will include training in marketing and record-keeping.
Around the Web