It will take some time for the full impact of the closure of its Caribbean operations by the American cosmetics giant Avon to be felt in the Guyana economy, but amongst the vendors, mostly women, who have, for years, sold the company's cosmetics goods from their living rooms, in small makeshift stores and even from pavements, the end of Avon's operations in Guyana appears to have brought with it a sense of shock and bewilderment.
The company says that it took the decision as one of a clutch of initiatives designed to repair its operations in its home market, the United States. Sixteen Caribbean countries, mostly Caricom member states, have been dropped from Avon's distribution circuit and at the individual level, thousands of the mostly female agents from across the region have their own stories to tell.
In Georgetown earlier this week, the Avon stalls on a section of the downtown pavement sandwiched between Guyana Stores and Fogarty's still appeared to be at their resplendent best though in talking to the vendors it was difficult not to sense the aura of bewilderment over the realization that they had picked up their last set of orders from the company's Camp Street headquarters. A few die-hard customers were engaged in their customary browsing though it was clear that the major preoccupation was with discussing the closure of the Avon operations here.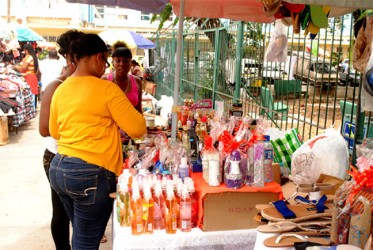 All of the vendors – with one exception, Claudette (real name withheld) – declined to be publicly interviewed on the matter though among the things that were on their minds was what they say was the short notice – apparently about two weeks – that they had been given that the world's largest beauty company with more than 6 million sellers operating in more than 100 countries was parting company with them.
Claudette could not say with anything remotely resembling certainty how many individual and family incomes were likely to be affected by the closure of Avon's operations here, her best guess was that those numbered "in the thousands." What she appeared to be more familiar with were the numerous anecdotal stories of single women who used Avon as their sole source of income and others for whom the selling of the company's goods provided a critical second income. Over the years, as the range of goods offered under the Avon brand broadened, modest living room operations graduated into more public vending enterprises and what had once been sideline pursuits had become transformed into established enterprises, buttressed by the insatiable look good, feel good mania amongst the local clientele.
From their own vantage points of bafflement and concern for the future, it was difficult for the handful of pavement vendors in downtown Georgetown to come to terms with the bigger picture: Avon's decision had been driven by its own worrisome financial results which, by the end of last year had shown an 11 per cent decline in revenue and losses of US$388.6 million. They were too preoccupied with their own relationships with a company that had changed lives right here in Guyana, including their own.
Claudette recounted the number of women whom she knew who had used the Avon route to support 'fatherless' children, to extricate themselves from abusive relationships and to develop a sense of self-esteem that derives from the satisfaction of earning an income. Avon, she said, had pushed hundreds of Guyanese women into establishing "hustles" that had transformed themselves into businesses. Perhaps, she felt, those lessons could be put to good use in other pursuits that might replace the Avon option that has come to an end.
Around the Web