Closer technological ties with Brazil will be one of the focal points of an expanded economic diplomacy demarche under an APNU-AFC coalition as a means of giving greater impetus to private sector development, opposition presidential candidate David Granger has told the Stabroek Business.
Speaking with this newspaper exclusively shortly after he had addressed a forum organized by the Guyana Manufacturers and Services Association (GMSA) at the Pegasus Hotel on Wednesday Granger said he believed that the previous administration had failed to take any significant advantage of the opportunities afforded for technological development on account of the country's close ties with Guyana over many years.
During his interview with Stabroek Business Granger repeated and expanded on the view which he expressed in his feature address that the incumbent political administration had done the country a disservice in its choice of envoy to the Federative Republic of Brazil, a country which he described as "a technological giant" from which Guyana can benefit significantly.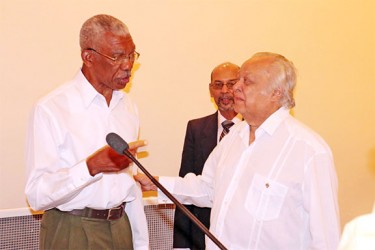 Much of Granger's address to the assembled diplomats and business persons was spent addressing the dichotomy between the promise of economic advancement held by the country's interior regions and their failure to realize that potential. He charged that apart from failing to pay any meaningful attention to the creation of critical interior infrastructure including roads and bridges the administration had failed to halt the outflow of raw materials that could profitably be transformed into value-added exports.
The APNU-AFC presidential candidate said closer ties with Brazil would be a critical cog in the wheel of the coalition's envisaged national technological upgrade and that this would include the creation of agricultural and technical institutes in each region to take care of skills training. "It makes little sense talking about improving our productive capacity in the various sectors unless we can create a skilled work force to accomplish that goal," Granger said. He said the focus of the training institutions would be on the teaching of Science, Technology, English and Mathematics.
Meanwhile, he said that an "educated workforce" would take on board the teaching of skills in the various cottage industries and in agro processing. He explained that it was in this regard that a coalition government would be focusing attention of what Brazil might have to offer in terms of appropriate technology that might enhance some of Guyana's emerging productive sectors.
And according to Granger, the envisaged programme for the development of the productive sector would require work not only to create the requisite training institutions but also to acquire financing and markets to generate growth in the sector.
Around the Web