Winston Waddle and Natasha Goodrich are not at all nervous about picking up their $2 million 'Race to the Altar' wedding prize at the Roraima Duke Lodge this weekend.
Tomorrow, the couple and 50 guests will soak up the atmosphere of the Roraima Duke Lodge's intimate reception hall after taking their vows; the seventh couple to be so rewarded.
Waddle and Goodrich are very much a public couple, having met some years ago through a ballroom dancing event. Having literally danced their way into a romance and a planned wedding in August this year, it was Goodrich's suggestion that they enter the 'Race to the Altar'.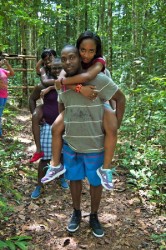 But that is not all there is to the couple. He is 27 and she is 21 and together, they have participated in a youth entrepreneurship training programme offered by the Guyana Youth Business Trust (GYBT), the youth arm of the Institute of Private Enterpriser Development (IPED).
Their entry into the 'Race to the Altar' coincided with plans that were already on the table to launch their own business, a snackette which Waddle says will be situated in Kingston. A business plan, part of the requisites for securing a loan from the GYBT for the snackette project is already in place.
The competitive events associated with the 'Race to the Altar' represented a relaxing interlude for the couple and the prize itself is a godsend.
On their own they had estimated the cost of their wedding at around $700,000 and that did not include the range of add-ons now available to them, including a stretch limo, a Splashmin's holiday and a trip to Curacao.
So that apart from their dream wedding, Waddle and Goodrich say there is every chance they will be able to start their business without having to immerse themselves in debt to do so. For more than one reason it is a story with a happy ending.
Around the Web