Starr Computers is reporting "very positive responses" from the University of Guyana Students Society (UGSS) to what it says is an initiative by the company intended to help open up new career paths for students attending the university.
Arising out of a second meeting earlier this week with UGSS representatives, Starr says it is now gearing to meet with the university administration to discuss placing its Information Technology capacity at the disposal of an initiative to develop custom-made seminars for faculties at the university. The seminars, which Starr says will be delivered by its own in-house functionaries as well as personnel from companies abroad "will help students to recognize possible job and perhaps even career options that fall outside the range of their present ambitions." However, he added that the seminars were intended to complement rather than replace the curriculum currently being taught at the university.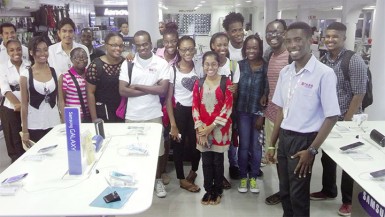 Stabroek Business has learnt that the idea behind the engagement is to seek to put before UG graduates options that might turn out to be income-generating pursuits that might even be applied side by side with their substantive jobs. Starr Computers President Michael Mohan said the initiative would seek to allow for students to adopt a flexible approach to career choices that might cause them to adapt to the new opportunities which the interaction with Starr would seek to offer.
Starr General Manager Rehman Majeed told Stabroek Business that the engagements between the students and the company had already facilitated "educational experiences" since the students had been exposed to mobile and electronic and computer technology produced by high-profile international companies with global reputations including Lenova and Samsung.
Mohan said that part of the focus of Starr's interface with the university will concentrate on the promotion of information technology.
Efforts by the business sector to engage the university in collaborative initiatives designed to create stronger linkages between the curriculum and the skill needs of the country have been undertaken by the local Private Sector Commission (PSC). Various companies have been involved, including the Guyana Telephone & Telegraph Company (GT&T) which has already provided significant support for enhancing the university's information technology.
Around the Web