(Article and photos provided by the Forest Products Development Marketing Council)
Of all the timber harvested in Guyana, exports of logs now stand at approximately 35% of the quantity harvested. It therefore means that the other 65% is used locally mainly in the form of processed timber. Processed timber takes many forms, for instance, logs are converted to squares which can be further processed into boards of various profiles and dimensions. These boards can then be still further processed to produce other downstream products such as doors, mouldings, flooring, wall panels, outdoor and indoor furniture among other things. Over the years there has been an increase in the production of these value-added products by a number of woodworking entities in Guyana.
The growth of downstream processing of timber products is supported by the growth of a number of manufacturers producing a variety of wooden products. Companies are continuously striving to widen their product base with new designs and innovations to keep up with a thriving competitive market swarmed by new home builders. The Forest Products Development and Marketing Council Guyana Inc (FPDMC) has conducted a survey of some of the many reputable manufacturers and wood working companies in Guyana and highlight below some of the observations made during those site visits.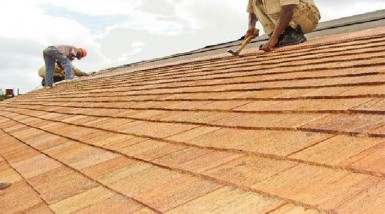 Bulkan Timber Works Inc
Bulkan Timber Works Inc (BTW) located on the Linden-Soesdyke Highway at Yarrowkabra is a fully integrated timber company operating in Guyana. BTW produces a line of beautiful kiln dried timber products that range from profiled mouldings, wall and ceiling panels to intricate designs of wooden window frames as well as other building components. Additionally it is capable of producing affordable pre-fab housing units. BTW is noted for its shingle production which has secured lucrative overseas markets.
Log Ripper Manufacturing Company
Log Ripper Manufacturing Company is a sawmilling, timber processing company located in the Charity area. This company began operations in the year 2000. As the demand for mill sawn lumber increased, by 2007 it expanded production to include boards and profiled lumber. Soon after, it started producing end-matched flooring for the export market. Diversification and expansion of the entity continued and by the year 2010 its production line further expanded to include flooring, ceiling and wall panels, various types of doors, mouldings, decking, spindles, cupboard doors, staircases and other building components. With the recent acquisition of additional machinery this company will soon be producing a line of exclusive leisure furniture for both the local and export market utilizing to a great extent the lesser-used species of timber.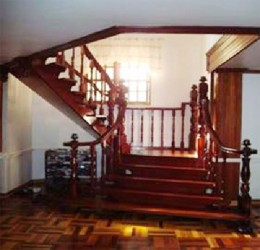 Woods Direct
Woods Direct whose operation is located on the East Bank Demerara is a recently established company producing a wide range of timber products which include marine timber and pilings, exterior and interior flooring, wall panels, railway sleepers, crane mats, bridges, industrial flooring and decking. Its production line also includes roofing shingles, pergolas and mouldings. This company recently received an international award for the production of quality shingles.
Variety Woods and Greenheart Ltd
Variety Woods and Greenheart Ltd has been committed for over 25 years to supplying superior quality tropical hardwood timber products to customers across the globe. To meet with increasing demand this company found it necessary to increase production capacity having received Verified Legal Origin (VLO) certification. Its range of products include piles, cladding/panelling, interior flooring, external decking, pre-drilled/chamfered timber, large dimensional timber, various profiled lumber and mouldings.
Shivrattan Moulding Establishment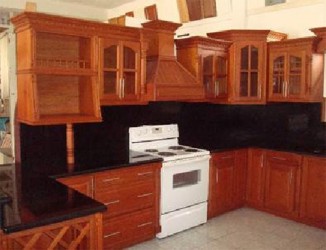 Shivrattan Moulding Establishment now located at Eccles Industrial Site found it necessary to relocate and upgrade its machinery needs because of an increase in demand for its products. Its production line includes solid hardwood doors, mouldings, stairs, kitchen cabinets and other building components. There is a great demand for its products both locally and in the Caribbean.
Shiva's Woodworking Establishment Ltd   
Shiva's Woodworking Establishment Ltd manufactures quality household and office furniture, doors, moulding, and sash windows. This company exclusively uses kiln dried timber in all of its value-added products to ensure high quality finish.
Guy-America
Guy-America, with manufacturing facilities in the Parika area is an integrated timber operation. The company has its own sawmilling and kiln drying facilities and all of its products are manufactured from kiln dried material. This timber company specializes in all types of furniture made from quality kiln dried lumber. Products include kitchen cabinets, office and outdoor furniture, staircases, panel/ cupboard doors. Guy-America is especially known for its elaborate kitchen arrangements.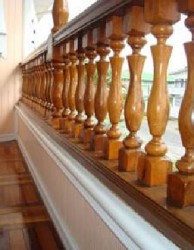 Eco-Woods
Eco-Woods situated at Land of Canaan manufactures a wide range of timber products utilizing a variety of species of local timbers. Its range of products includes decking, wall panels and flooring, mouldings, turnery, balustrades, pre-cut homes, and Wallaba shingles. The greater part of Eco-Woods' production is exported.
The Hauraruni Agricultural Development Company (HADCO) Sawmill and Farm
The Hauraruni Agricultural Development Company (HADCO) Sawmill and Farm manufactures doors, spindles/pedestals, windows-joints, floorboards, decorative mouldings, cabinet doors, high-end kitchen cabinets, bedroom closets, dining room sets, step rails and decking. HADCO has recently entered the overseas market supplying primarily doors.
In addition to the above manufacturing activities there are over 200 sawmills spread across the country which process logs into various forms of building material. These materials are used extensively in the construction industry in Guyana especially in the many houses that are being built in the various housing schemes.
It would be of interest to note that some of the key destinations for value-added products starting from sawn lumber to finished products such as doors and mouldings are in the Caribbean, Europe, North and South America as well as the Middle East.
The timber industry in Guyana currently contributes in excess of 4% of the country's Gross Domestic Product.
Around the Web