Jamaican-born businesswoman Valerie Grant takes seriously the opportunities afforded by the facility of free movement of skills in the region to offer what, in the context of the Caribbean, are scarce if important services that are critical to a broad range of developmental sectors.
GeoTechVision Enter-prises Limited, a company specializing in spatial technology and Informa-tion, Communication and Technology (ICT) solutions, which she founded in Jamaica, has found a 'second home' here as GeoTechVision Guyana.
The company was first incorporated in November 2008 and has been here since January 2012. It took a while for the University of the West Indies-trained Geologist who also holds a Master in Geographic Information Systems and Environment to get across to the Stabroek Business the relevance of the services which her company offers to the developmental pursuits of the region. In a nutshell, she says, geospatial information/ intelligence is one of the critical elements underpinning decision making in addressing some of the region's most enduring challenges including economic development, environment and resource management, climate change and environmental and disaster management. Put simply, it is a matter of working with the correct tools, including, critically, reliable data, to try to cut through challenges in various areas of development.

In recent years the company has been assisting Caribbean governments and the private sector in developing and effectively utilising spatial intelligence in critical decision making. These pursuits, according to Grant, have involved GeoTechVision establishing geographic information systems, GPS and mobility products and solutions, as well as marketing its own 'GeO' brand tablet.
The only company of its kind in the Caribbean headed by a woman, GeoTechVision first came to Guyana in 2010. After that, its CEO says, the company had been "in and out of Guyana." Much of its work has had to do with supporting the development of "shore zone management systems" designed to help monitor and manage the local sea defence structure. The company has also worked with the Guyana Power and Light Company (GPL) on the mapping of its assets as part of a needs assessment exercise.
GeoTechVision's founder's focus is on the development of capacity in the region in what she says is a discipline that is key to the growth of several critical sectors. Some training has already been undertaken with the Guyana Water Inc, the Mangrove Project, the Ministry of Public Works and the Central Housing and Planning Authority.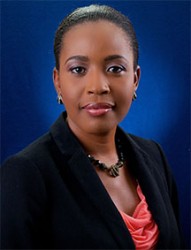 Within the next two months, the company's focus at its local 50 Brickdam secretariat will be on offering, through the GeoTechVision Academy, institutionalized training programmes for public and private sector persons.
The company, Grant says, is seeking to partner with the University of the West Indies in an initiative that is expected to yield accreditation for the training programmes.
GeoTechVision's other consulting services include project management, information security advisory services, process auditing and assurance, business analysis and enterprise, Geographic Information Systems (GIS) solutions, planning and implementation.
According to Grant, the principals and staff of GeoTechVision have garnered considerable experience working extensively in the Caribbean region, in Jamaica, Barbados, the Bahamas, Turks and Caicos Islands, Belize, British Virgin Islands, US Virgin Islands, Grenada, Guyana, St Maarten, St Lucia, St Vincent, Trinidad and Tobago and Suriname.
"Our footprint across the Caribbean region has seen us working with government ministries and departments, public and private organizations in utilities, companies in insurance, real estate and transportation; non-governmental and donor agencies and individual consumers in delivering our services and as regional agent for vendors of mobile GIS, geomatics and ICT products," Grant says.
The broader mission of the company, she asserts, is "to create value through ongoing GIS and ICT innovations" that help the regional public and private sectors "to leverage technologies that deliver expected benefits and maximizes return on investment."
Around the Web