(Trinidad Express) Republic Bank (RBL) on Wednesday announced plans to acquire Suriname's third largest bank, RBC Royal Bank Suriname NV, from the Royal Bank of Canada.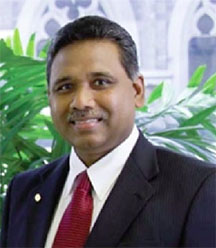 The estimated cost of the transaction is US$39.8 million (TT$253.6 million).
The acquisition is expected to increase RBL's footprint in the Caribbean to eight territories, Republic said in a statement.
RBC in its own statement from Toronto, Canada said it expected the transaction to result in a loss for it of Can$23 million (TT$119 million) under international financial reporting standards.
Republic noted that at the end of the acquisition it intends to rebrand the subsidiary in Suriname.
"By drawing on its proven track record of adding value to the markets it enters through the enhancement of customer experience, Republic will make available to the Surinamese market a wide array of products and services, as well as access to its wealth of banking expertise. This includes commercial and retail as well as merchant and corporate banking."
Republic noted that a Share Purchase Agreement was executed on Tuesday, signalling the start of the transaction which is subject to customary closing conditions, including regulatory approvals.
The bank noted that the acquisition will be accretive to its shareholders and expected to be completed in the coming months.
Earlier on Wednesday RBC said the loss from the Suriname sale largely related to an estimated write-down for the proportionate share of RBC Suriname goodwill and other intangibles.
"The loss is based on current estimates and is subject to change and will be reflected in the results of the second quarter ending April 30, 2015," RBC said.
RBC will release its second quarter 2015 results and host an earnings conference call on May 28.
Head of RBC Caribbean Banking Rob Johnston explained that following a thorough and careful review of RBC's Suriname operations, the bank concluded that the best decision for the long-term future success of the operations was to sell it to a strategic buyer with interest in building a presence in Suriname.
"Republic Bank, which also has operations in neighbouring Guyana, is exactly such a partner," Johnston said.
RBC Suriname operates a six-branch network with assets of approximately US$525 million (as at October 31, 2014) and an employee complement of 199 people.
In making the announcement of the RBC Suriname acquisition, Republic Bank managing director David Dulal-Whiteway noted: "As a Caribbean-based bank, we are always on the lookout for opportunities in the region. Suriname's diverse and stable economy makes it an attractive investment territory and one that we have been desirous of entering since 2012. We view this opportunity to acquire Suriname's third largest bank as a solid entry point into that market."
Around the Web