An open border or at least a border "with limited restrictions between Nickerie and Corriverton" is likely to "trigger a significant boost to the economy of the Upper Corentyne," recently re-elected President of the Upper Corentyne Chamber of Commerce Abraham Subnauth has said.
Delivering an address at the Annual General Meeting of the Chamber at the City Inn Hotel last month, Subnauth said the business support body will continue to lobby for an "open borders" policy to facilitate a free flow of trade across the border.
In January this year, public and private sector officials from Guyana and Suriname convened the first ever cross-border business conference. And while the Chamber President provided no details on the outcome of the forum, he, nonetheless, described it as "successful." The forum was expected to address a number of key issues pertaining to cross-border trade including smuggling, customs regulations and protocols and contraband.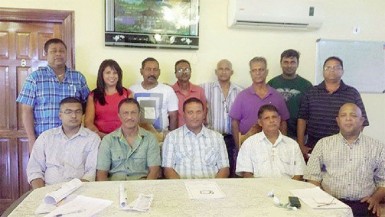 Meanwhile, Subnauth has tagged as ridiculous, "the number of licences you have to obtain and regulations you have to adhere to" in order to operate a small business. "I feel that as a developing country, small businesses operating in rural areas such as the Upper Corentyne should be given incentives to operate and rewards for investing and the Chamber needs to put much more effort into lobbying and advocating in this direction," Subnauth said.
According to Subnauth, during 2014 the Chamber also held a number of meetings with the Guyana Revenue Authority "to highlight and resolve issues affecting local importers and taxpayers in general." During the year under review deliberations were also held with the National Insurance Scheme (NIS) to affect issues affecting some of its members.
In his address Subnauth also alluded to what he described as the "clearly visible" impediments to the growth of the agricultural sector in the region including "the lack of proper farm to market roads" and the need for "a more efficient drainage and irrigation system." According to the Upper Corentyne Chamber improved farm to market roads and more efficient drainage and irrigation were likely to drive the cost of production down. "Lower costs of production mean higher profits and this will lead to an increase in spending in the local economy which equates to more business," Subnauth said.
The Upper Corentyne Chamber, according to Subnauth, is seeking to further enhance its monitoring role in the agriculture sector and as such is seeking to broaden the base of its membership in the farming community. "Agriculture is the backbone of the economy in the Upper Corentyne.
All businesses are directly or indirectly linked to rice and sugar and agriculture. We need to have more farmers join the Chamber so that we can have first-hand information on issues affecting the sector and take the necessary action to address them," Subnauth added.
Around the Web