As June, the traditional 'month of brides' approaches, couples and families as a whole, will be preoccupied with wedding plans. Some things have changed. Planning a wedding used to be a 'family affair.' That is no longer the case. These days it is possible to keep abreast of unfolding wedding plans on Facebook and there are Wedding Planners, people who specialize in putting the whole show together.
What has not changed is the fascination with wedding dresses. Frequently, the wedding dress is the single biggest investment for 'the big day.' Other things about the wedding dress culture have changed too. Time was when a bridal gown would be handed down. That is less the case these days. Rather than simply watching their dream garment occupy space in a closet where it simply gathers dust, brides are opting to sell their wedding gowns or else, gift or rent them.
Arising out of these practices a thriving trade has emerged in therenting of wedding gowns.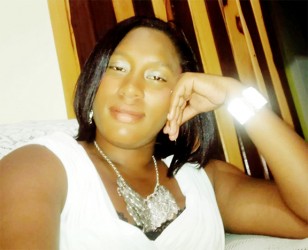 Launched about four years ago, Belle Marie's Bridal Dress Rental is the brainchild of Claudette Hutson of 202 Parfait Harmonie, West Coast Demerara. Her enterprise was created out of her own experience of not knowing what to do with her wedding gown. Eventually, she was able to rent the garment and that experience sparked her present entrepreneurial venture.
If it might not be every bride's 'cup of tea' to wear a rented wedding gown the idea would appear to be catching on. Exotic wedding gowns can cost as much as a few hundred thousand dollars to have made and these days,   Hutson says, if you can have that exotic look for a considerably reduced cost, why not?" Stabroek Business met Claudette at the Roraima Group of Companies' recent Seventh Annual Wedding Expo where she told us that the enterprise was also developed in consultation with Desire Norris, a resident of the United States who not only vouched for the viability of the sector but also decided to acquire and send dresses to Guyana.
Bridal dress rental is a demanding business, the challenges being associated with storage, retaining an efficient inventory, cleaning and retaining stock in good order. Delle Marie's Bridal Dress Rentals owns around twenty dresses of various designs and sizes and rental arrangements are subject to the strictest contracts. The full rental amount must be paid in advance and the signed contract stipulates that the garment be returned in good order and they not be altered in any way, failing which the customer must compensate the owner. Dresses become available three days before the wedding and are returnable three days after the wedding.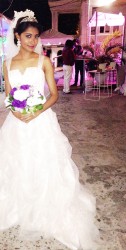 If the idea behind a bride's wedding day is that she look the best she can Claudette reckons that the objective might just as well be achieved at an affordable cost. A wedding dress rental can set the bride back amounts ranging from ten thousand dollars to forty thousand dollars. It's a package that includes a veil, money bag, bouquet, tiara, chains and ear rings.
She has come away from this year's Wedding Expo with some ideas for expansion. She is contemplating adding male apparel to her line of rental items, hoping it seems, to transform her enterprise into a one-stop shop for couples.
For the Wedding Expo, Claudette teamed up with two other enterprises, Monique's Amazing Weddings of 896 Section "A" Block X, Diamond, East Bank Demerara and Chitramanie Suknanan of Hema Beauty Production to form Creative Wedding and Event Services. In the longer term, what they seek to do together is to help remove what can often be the high price that a couple must pay for what ought to be the happiest day of their lives.
Around the Web