Entrepreneurship is no longer quite what it used to be. The high streets have long begun to surrender themselves to sectors which, not too many years ago, used to be no more than hobbies and the contemporary entrepreneurs who had once 'dabbled' in these pursuits as no more than hobbies are now doing brisk business out of vastly expanded demand.
The phenomenon manifests itself mostly in the fashion business. Body beauty, for example, is no longer the exclusive pursuit of the outgoing woman. It has become part of who women are. Hair, faces, nails – all are fashioned and re-fashioned to make statements about the wearers. Globally, the market for these once modest beauty niches amounts to billions of dollars. Here in Guyana it amounts to a pretty good living for those who have made a success of it.
Rebecca Cox concedes that she is excited by the glitter of the glue and the nail polish and by the physical transformation that theycreate. Hands are among the 'busiest' body parts and it is almost impossible for painted nails not to stand out.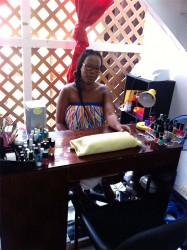 Rebecca is the proprietor of the Polished Nails Lounge, both an artist and an entrepreneur. When a customer walks in the creative juices begin to flow.
It may be glitz and glitter but it is serious business. The competition in a sector where it is easy to find fault with even the most miniscule shortcoming is fierce. It keeps both the Proprietor and the Polished Nails Lounge on their toes, preoccupied with keeping their 'regulars' and winning new customers with their service.
Manicure and pedicure prices can range from $3,200 to $5,500. The services can range from simple manicures to exotic and quaintly designed artificial nail extensions. Fungus treatment provides a treatment dimension to the service.
Pedicures include foot soaking, foot scrubbing with a pumice stone or foot file, nail clipping, nail shaping, foot and calf massage, moisturizer and nail polishing. Spa pedicures involve foot soaking, foot scrubbing, nail clipping, nail shaping, hot stone massage, paraffin wax, moisturizer and nail polish,
Nail extensions are created using acrylic to extend the nail past the edge of the natural nail. The artificial nails are then polished and designed with lace, glitters and diamantes.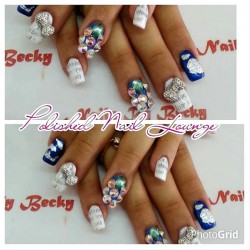 Striving to stay abreast of trends in an industry that can win her business vital competitive advantage Rebecca stays abreast of global trends in the sector through subscriptions to magazines and – inevitably these days – checking the internet. She believes that of late she may well have enhanced the popularity of her
establishment through the use of a new gel in the treatment of nails.
It is the cost of equipment and the general pressures associated with keeping up with the industry that imposes heavy demands on businesses in the sector. Rebecca's is a modest business located on premises owned by her mother and she has had to resort to 'box hands,' a traditional means of capital accumulation to acquire equipment. Local commercial banks are yet to come to grips with and develop a measure of confidence in some of the relatively new sectors that have emerged in the Guyana economy and, accordingly, funding from the formal borrowing sector is still not easy to come by.
She returns to the subject of her recent 'gel' discovery. The gel must be applied to the nail and must be dried under a UV lamp for three minutes. After that it must be filed to the desire shape and polished. Gelled nails are easily removed at home without a visit to the salon. It remains firmly fastened for at least two weeks with high shine and no cracking, peeling or chipping.
If artificial nail extensions continue to hold their own in the sector customers are beginning to demand that more be done with their own nails. It is an emerging preference in the body beauty sector to which Rebecca has to adjust if she is to stay in business so that new skills are beginning to emerge.
There are health considerations too. Body treatments for diabetics must be undertaken with a mindfulness for cuts and bruises. Orange Wood Stick is a specialized tool which replaces metal in the cleaning of diabetics' cuticles. Polished Nails Lounge also works in conjunction with a dermatologist to whom clients with serious nail fungi are referred. As a matter of course all of her equipment is subjected to a sanitization treatment.
With nail brushes, lace, glitters and diamantes   as her tools Rebecca is 'in her element,' creating attractive artistic designs. The process – depending on the complexity of the desired design – can last between forty five minutes and two hours.
A Nail Technician for the past eight years, she recalls being encouraged by a friend to acquire a skill that would enable her to earn a living beyond formal retirement. Following a stint at Jem's School of Elegance Beauty Parlour and Cosmetology School she travelled to Trinidad and Tobago and underwent further training at the Institute of Elegance and School of Cosmetology
On her return to Guyana she knocked on the doors of three separate salons in search of a job. After her third disappointment she decided that she would have to start on her own. Short of cash she initially shared the premises of a family friend with a shop on Duncan Street. Afterwards, another family friend who ran a Nail Salon but had decided to migrate gifted her some equipment and products.
Rebecca recalls that it was on October 7, 2007 that she began to ply her trade on her mother's premises with what equipment she owned and one of her mother's tables. For three months she received numerous enquiries but not a single customer. She remembers that her first client was a nurse named Julie who became a regular customer until she migrated.
Skilled and reliable staff, she says, are hard to find. She had begun trading under the business name of Hair and Things. She had to discontinue the hair service. The challenge of finding a committed hairdresser simply made too many demands on her.
She extends credit to regular customers. That, she says, is the nature of the business. The creditors are given three weeks to pay. Credit in business can be a delicate balancing act but it is a calculated risk.
The lucrative months, she says, are February, April and December. The weekends are often 'lively' as well. The Lounge is open every day and to encourage patronage every month it hosts a cost-saving promotion and 'throws in' a beverage for customers for good measure. Much of its advertising is done on social media..
Rebecca's next stop, she says, is owning her own premises but hers is a highly competitive business and for the time being she is not aiming to get ahead of herself,
Around the Web