Whilst formal academic training in business-related disciplines now occupies a prominent place on the curricula of local schools and tertiary institutions and increasingly as part of in-service training at several local entities, the view has long been expressed in business circles that efforts to enhance the entrepreneurial culture in Guyana must be driven much more by initiatives that provide hands-on instructional training designed to transform modest and seemingly thriving business ventures into highly successful enterprises.
Guyanese businessman and Senior Vice President of the Georgetown Chamber of Commerce and Industry (GCCI) Vishnu Doerga disclosed to Stabroek Business earlier this week that he has invested in the acquisition of a tool that is being used in 56 other countries in an effort to bring a greater measure of practicality to refining the innate but largely untutored business skills acumen evidenced in Guyana.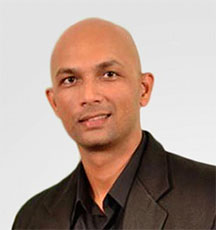 In November last year Doerga acquired a franchise for ActionCOACH, a business training entity that specializes on focused and specialized coaching. What attracted Doerga to ActionCOACH, was the fact that it seeks to provide business owners, in many instances for the first time, with a range of simple and affordable sales, marketing and team-building strategies that result in significant improvements in turnover and profit.
It is the concept of 'coaching' that underpins this business training model that has animated the qualified Mechanical Engineer with a high-profile family background in business. Applied in an identical manner as in sports, coaching implies an intimacy between the student and the coach that allows for careful, step-by-step tutoring that allows for queries, clarifications and repeated re-runs. The focus, Doerga says, is on getting it right. He explains that the ActionCOACH method can be applied equally effectively to groups of businessmen and women pursuing similar objectives and it covers a range of specific subjects that can range from creating startups to targeting external markets.
Doerga believes the ActionCOACH approach to generating higher levels of business success is ideally applicable here in Guyana where instances of business failure and/or lack of expansion often means that as far as taking their small and medium-sized enterprises beyond their existing stages is concerned, some local businesses may well have hit a wall. His own coaching will seek to undertake
careful diagnoses of the small and medium-sized enterprises which he is targeting with a view to identifying the 'humps and hurdles' to growth and greater profitability then providing specialized coaching for business owners in those areas that might require remedial attention. "What we are seeking to provide are business classes for business owners," Doerga says, pointing out that the ultimate objective is to close the gap between ambition and acumen.
Doerga's acquisition of the ActionCOACH franchise in November 2014 was followed by a course of specialized training in Las Vegas prior to him becoming a certified ActionCOACH. On the ground in Guyana Doerga says he is seeking to work with the support of qualified and experienced business types with tutoring skills that will infuse that sought-after element of intimacy into the programme's coaching pursuits. He believes, too, that at a time when the advent of the Small Business Bureau has created new opportunities for business growth, there is a role for ActionCOACH in seeking to marry enthusiasm for business pursuits with knowledge that provides greater assurance of business success.
ActionCOACH itself was created in 1993 by its Australian founder Brad Sugars and has built its reputation on conducting seminars and workshops for small to medium business owners throughout Australia and New Zealand. The franchise owners say that "for the first time, these business owners had access to hundreds of amazingly powerful, yet relatively simple and affordable sales, marketing and team building strategies that resulted in dramatic improvements in turnover and profit."
In 1997, after concluding that the best way to service the needs of clients and potential clients globally was to have local coaches spread across the world; decision was taken to buy the franchise and to spread ActionCOACH to several territories in the Caribbean and elsewhere.
Doerga says that above all else, what makes ActionCOACH "good for Guyana" is the fact that it is ideally structured to dispense with academia and to focus on creating settings that optimize learning opportunities for "regular businessmen" who may never have sat in a "business classroom."
Doerga, who is also aiming at securing a Phd in Business Management says that as someone who has been on both sides of the fence he is ideally positioned to deliver the ActionCOACH model.
Approaches to coaching will depend on what the diagnoses reveal about the enterprise or businessman. "It might range from a simple recommendation, perhaps the provision of a book or simple manual, to actual tutoring in a particular set of areas," Doerga says. He says that with much time having already been spent analyzing the "business culture" in Guyana he is aware of those areas where an ActionCOACH intervention can bring results.
Fees for continuous coaching can range from around $100,000 per month to $400,000 per month though Doerga says he wants potential clients to understand that ActionCOACH makes a clear distinction between "coaching" and "consultation." It is, he says, a matter of being thorough, painstaking and focused on getting the right results. "Frankly, what we are seeking to do is to work mostly with those small and medium-sized businesses that sometimes appear to be working with perfectly good ideas but appear unable to monetize them," Doerga says.
In the short term, he says, much of his mission has to do with "marketing" the ActionCOACH model in Guyana. He believes marketing will be assisted by the growing intensity of the competition in business and the keenness among businessmen and women to secure such competitive advantages as they can.
The formal launch of the local ActionCOACH franchise will take place on May 20 and will witness a collaborative initiative between Doerga and the Georgetown Chamber of Commerce and Industry (GCCI). Doerga told Stabroek Business, however, that ActionCOACH has already 'hit its straps,' providing free coaching sessions for the Chamber for one year and for business enterprises and non-governmental organizations with business-growth interests.
Around the Web