Texila American University (TAU) which was launched in Guyana in 2010 and has now established campuses at the Critchlow Labour College in Georgetown and at Goedverwagting on the East Coast Demerara, is to set up a 150-bed hospital as one of the facilities at its third campus currently under construction at Providence, East Bank Demerara.
Earlier this week Stabroek Business met a team of senior officials from Texila including Vice Chancellor Dr Dilip Patnaik, Regional Manager (Marketing) Karthick Raghupathy and Chief Administrative Officer Sreebalakumar and was briefed on a number of issues including the progress being realized in the completion of the Providence campus and other matters relating to the advancement of the institution's curriculum.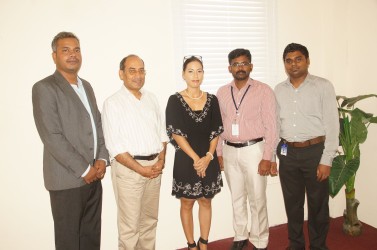 With regard to the completion of the four-block Providence campus this newspaper learnt that the first two blocks will be completed by December 2015 while the second two blocks will be completed within a year of the completion of the first two blocks.
The completion of the Providence campus will allow Texila to enhance its intake of students by around 1,600 and equally importantly to introduce its online programme that will enable the institution to offer courses to medical professionals in distant regions of Guyana.
Setting aside its substantive role in academia Texila is affiliated to a number of local business organizations including the Georgetown Chamber of Commerce and Industry (GCCI) the Private Sector Commission (PSC), and the Consultative Association of Guyanese Industry (CAGI). Officials told Stabroek Business that its collaborative exchanges with government had opened the way for nurses and other medical professionals at distant health clinics to benefit from upgrading courses that would help enhance their levels of competence.
Texila already offers online courses for around 1,800 students in 60 countries.
The institution is, meanwhile, working towards the completion of the first phase of its hospital which will cater to the training needs of the university. The subsequent phase, the officials say, will help to serve the health care needs of the country.
During the briefing, the TAU officials told Stabroek Business of plans to broaden the scope of the university's academic programmes to embrace other disciplines, including business management, project management and computer science that would enhance the country's human resource capabilities.
Since its establishment in 2010 Texila graduated seven medical doctors in 2014 while a further 20 are scheduled to graduate in December this year. Texila says that thereafter it will be graduating at least 40 every year.
Around the Web