Inevitably, the transformation that has all but completely altered the face of the old Georgetown has made its presence felt on Brickdam, one of the few streets where huge, shady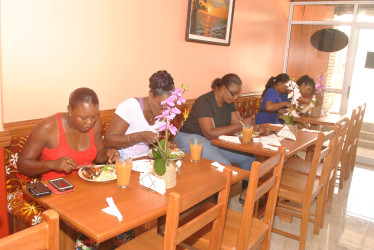 trees and colonial-style wooden buildings used to dominate the quiet stretch that extended for the majority of the length of the capital. Hotels, snackettes and even a jewelry store have come along and changed the appearance of Brickdam.
More recently, there has been another change. Lot 50 Brickdam where Jehovah's Witnesses used to house their Secretariat is now home to the Island Style Cafe and Juice Bar. From the street outside, it appears discreet, befitting its title, cafe and juice bar. In reality, it is actually a fair-sized restaurant offering a surprisingly elaborate culinary fare; more than 70 choices in beverages, porridges, pancakes, pastries, appetizers, soups, salads, sandwiches, wraps and rolls and main courses. Island Style, it seems, is seeking to pioneer a Caribbean culinary fare in Guyana. The owner, Jamaican-born Valrie Grant is a self-confessed "foodie." She confesses that setting aside the investment, Island Style was a personal desire, a passion for more than occasional indulgences in Caribbean foods.
What she calls her "mid-level café" caters to all kinds and assortment of taste buds and has already begun to attract the attention and the patronage of the persons residing here but originating elsewhere in the Caribbean and even further afield.
Her cooks, one Jamaican, one Guyanese, deliver a daily diet of delectable dishes from across the region from Guyana's renowned metagee to Jamaica's own Ackee and Salt Fish and Jerk Pork.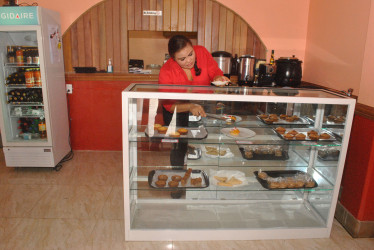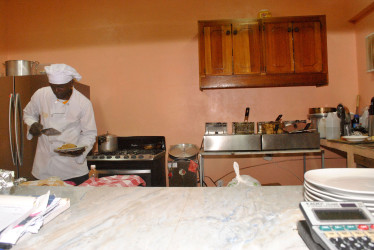 There are days too, when you can enjoy a Bahamian Cracked Conch at Island Style. The cafe also offers an array of soups, salads, fruit juices, smoothies, soups, salads, fruit juices and coffees.
Over lunch – a highly favoured Jamaican stewed peas and rice – Valrie talks up the Island Style's Friday Evening 'hangs' in the orderly forecourt of the facility. "That is when the Island Style recreates the Jamaican sounds and scenes by getting out the pans to prepare a variety of Jerk dishes." That is when Omar, the affable Jamaican Chef is, as we say, in his element, cooking up a storm as patrons enjoy the backdrop of reggae music.
But the business-minded proprietrix 'ain't done yet.'
She also showed off a near complete private dining room where she intends to compete with various other restaurants and hotels.
The claybrick exterior has for decades afforded the building a distinctive appearance and while there is no sand and seaside close by, there is an aura of quiet that draws you to the Island Style.
Around the Web