Less than five years ago Jennel Pierre was a studious St Stanislaus College student contemplating the possible pursuit of a post-CSEC career in one branch or another of the Natural Sciences. All that changed in August 2011 when she received a package from a friend in the United States.
It was not the contents of the package but the packaging itself that became the item of interest. Part of the wrapping was a large, beautiful bow. Her fascination with the object took her imagination in a plethora of directions and today, that imagination has been transformed into a D'Urban Street, Werk-en-Rust enterprise called BowJay. From high school science hopeful, Pierre, at 21, has reinvented herself; she is now the owner of a company that is attracting attention in the world of popular fashion.
Hers, on the surface, is a simple idea. It is a matter of using the bow to make a fashion statement. Apart from bows that decorate hair, BowJay bows can be seen on hats, belts, bags and purses of all types and, she says, "Bows are a genuine fashion item."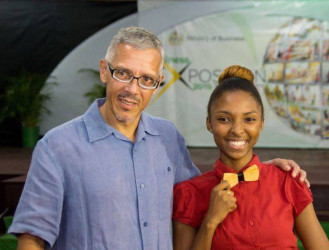 At last weekend's Business Pitch competition, which invited small business owners to present a business plan to a panel of judges Pierre took the $500,000 top prize, as much for the thoughtfulness of her delivery as for the ingenuity of her product, a neatly designed wooden bow tie. A single one of these quaint pieces can add considerable value to any wardrobe. It can be painted, lacquered or covered with fabric which means that it can be worn to church on Sunday and to a formal event the next weekend.
Pierre is already fashioning options in her head for the launch of her creation and she sees next year's 50th independence anniversary as offering an opportunity to maximize the marketing of her products.
The First Assembly of God Church member and fourth-year University of Guyana Management student is preoccupied both with taking advantage of seasonal taste and contemplating the prospects of the wider market that the region and perhaps even North America might offer. She is already looking beyond the domestic market.
BowJay, she says, is "doing okay." Facebook has provided her with a considerable measure of marketing and the recent Business Pitch success is, she says, just the kind of marketing 'tonic' which her enterprise needs at this time. She has registered both with Youth Challenge Guyana and with the Small Business Bureau. The latter entity is currently processing her application for the $300,000 grant available under the Micro and Small Business Development Project.
If Pierre joins her parents, Rolston, a former rice farmer and Sandra Ross in the United States she is equally qualified with the potential that BowJay holds. Questions about options that she is likely to exercise bring no clear answers. For the moment, at least, she appears enthused and energized by the prospects and opportunities that have been opened up by her pursuit of an entrepreneurial option.
Around the Web