Since its establishment in August this year, Amy's Pomeroon Foods Inc may well have set a record in the local manufacturing sector. This year, at its Anniver-sary Awards Ceremony the Guy-ana Manufacturing & Services Association (GMSA) cited the company for introducing advanc-ed technology to process and market ground Pomeroon coffee in superior quality package.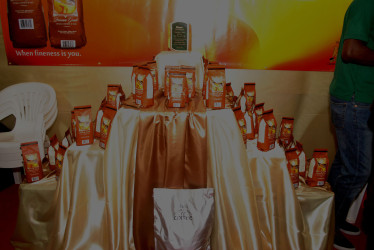 Up until now Louis Holder has poured around $50 million into a project which he still considers far from complete.
Holder gets his coffee from the Pomeroon River, which is known for its production of high-quality coffee beans and apart from the 8 acres which he cultivates, he purchases from other farmers in the region and from Brazil. His annual production requires that he utilize 100,000 tonnes of beans. That will provide him with 10,000 tonnes of usable material.
Processing into the refined product that he produces requires that the raw product be moved to the Liliendaal Project Dawn Complex. Before they make that journey the coffee cherries are taken to the factory at Jacklow where they are shelled. First by boat then by truck the partially processed cherries make their way to Liliendaal. The packaging also takes place there after which the product makes its way to market.
Banks DIH Ltd is the major distributor of the product and the cups of coffee that the company offers in its snackettes are made from Amy's Coffee. Amy's Coffee can also be found on the shelves of Bounty, Nigel's and Survival supermarkets and Sol gas stations.
Since distribution commenced in October this year, Holder has distributed 175 packets of 250 grammes and 75 packets of 500 grammes; not the sort of numbers that suggest the product has taken the market by storm. Holder, however, is prepared to be patient.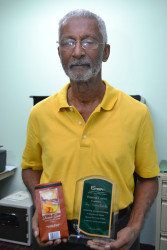 Holder is in the process of targeting Guyanese coffee lovers in the diaspora particularly those in the Caribbean and North America.
He said that up ahead, one of the company's challenges will be to acquire sufficient volumes of coffee cherries to keep his factory going. Accordingly, he has issued a challenge to Pomeroon farmers to grow more coffee. He will, he says, buy as much as they produce at $1,000 per pound. The incentive, he says, will hopefully, lure back to the land those residents of the Pomeroon who have given up the farmlands for the goldfields. The same commitment, applies to the farmers at Hosororo and Moruca, two other coffee-growing region of Guyana. Product quality is another concern and in this regard he is collaborating with the National Agricultural Research and Extension Institute on a seedling project aimed at upgrading the product quality.
His experience as far as doing business in Guyana is concerned has not been a particularly pleasing one. It took him two years of frustrating engagement with the state bureaucracy, beginning in 2013 to secure a manufacturer's licence. One was finally issued to him in July this year. Understandably, he feels a sense of frustration whenever he reflects on what might have been accomplished during what he considers to have been a wasted period.
The asking price for the 500 kg package is $2,500. The smaller size, 250 kg, is being retailed at $1,400. Smaller quantities will be placed on the market at a later stage.
Holder is contemplating diversification; first, into cocoa powder and eventually chocolate. He is, however, concerned that his coffee project stands firmly on its feet before plunging
headlong into diversification.
On the basis of the available evidence, the product was one of the stars of the Business Expo. When Stabroek Business visited the display on Saturday evening, it had attracted a mix of local coffee drinkers and visitors to the event who were pleasantly surprised to discover that Guyana was producing its own brand of coffee. Again, marketing, at home as much as abroad, could make a difference between success and failure. There is supporting role for government here.
After the beans arrive at the Project Dawn Complex they are screened, during which process, the bad ones are removed. After that they are placed in a computerized roaster then a grinder for completion. The ground coffee is then packaged.
Having been persuaded of the virtue of producing more high-quality goods, Holder says that he is hoping that consumers will support his coffee. If the response at Sophia last weekend is anything to go by he ought to get his wish.
Holder's multi-million-dollar operation includes a state-of-the-art packaging operation (the actual packages are bought out of China) and production machinery bought from one of the most coffee-rich countries in the world, Turkey.
Operations are closed for Christmas and over the next few weeks, Holder will be visiting offices and business houses around the country promoting his product.
Around the Web