From December 8 to 9, more than 125 students of the Carnegie School of Home Economics staged an impressive display of their various taught skills during the school's Christmas Village 2015.
Stabroek Business was present at the launch of the event, which while taking account of the festive season appeared designed to parade the school's curriculum and to put the skills of its students on display.
The students who staged the display were drawn from the six programmes – Catering and Hospitality, Household Management, Interior Decoration, Garment Construction, Commercial Food Preparation and Cosmetology – offered by the institution.
Principal of the CSHE Penelope Harris told Stabroek Business that while, in previous years, he event had taken the form of a sale of products made by the students, a decision had been taken to give this year's event a more festive orientation.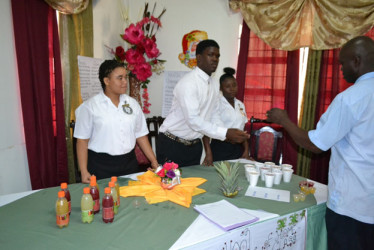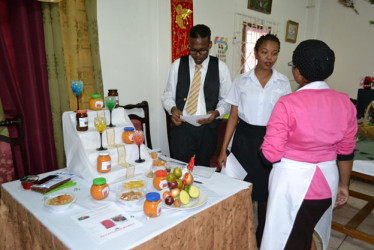 Students who have reached a level of proficiency in Commercial Food Preparation served up a display of typical Christmas dishes including pepperpot, garlic chicken and pork. The seasonal favourites, which while proving particularly pleasing to the eye, provided visitors with the opportunity to cash in on Carnegie's customary delicious lunch deals. The yuletide lunches were on offer at $1,000 per plate.
Over in the Cosmetology section visitors were taking advantage of the manicure and pedicure services; the cost of one hand was $500.
The culinary skills of a batch of final year students who are due to graduate in March 2016 provided visitors to the first day of the event with one of the more attractive presentations on show at the event.
In seeking to offer local consumers and visitors to Guyana a broader variety of culinary options, the school challenged students to be innovative by presenting gastronomic offerings that are not commonly available on the market. From all appearances they did not disappoint. The three units comprising the Catering & Hospitality Programme – the Bake Shop, Hot Meat Preparation and Food and Beverage – offered a variety of dips and sauces, teas, juices, scones and biscuits all of which reflected an impressive level of creativity.
Part of the objective of the exercise was to ready the students for the world of work and accordingly they were required to invest their own funds in the various projects and to recoup their investments and profits from sales. Business plans prepared for their various initiatives also included named companies.
One such company, named Pure & Simple, attracted a considerable measure of attention (and sales) with its Pepper Sauce and Achar, whilst Zoya's Zooming Delight served up a range of sauces comprising mixtures that included sorrel, ginger, coconut milk and lemon grass suitable for salads, meats and vegetables.
The eye-catching Tea Group Restaurant offered hot and cold teas the former utilizing guava leaf, cinnamon, ginger, lemon grass, and clove and the latter employing sorrel and passion fruit among others.
Among the juices, the Red Splash, a mixture of watermelon, sorrel and pomegranate was a standout while other interesting variations included the Clean Heart comprising cucumber, green mango and gooseberry and Life Journey, a blend of pineapple, orange and passion fruit.
The various 'companies' volunteered the health benefits of the respective beverages.
Baked products too were part of the two-day event. La Petite Bakery was offering tasty mini cheesy sausage muffins, ideal finger foods for social gatherings. La Petite went further, providing packaging that included details of ingredients and production and expiry dates.
MCD Bakery clearly thrilled with its delightful mini cupcakes, whilst Shake N Bake too seemed to be doing brisk business with its cassava pizza and milk shake.
The Leading Ladies Cookies Bakery produced ginger-flavoured coconut cookies, throwing in tastes of pineapple, cinnamon and passion fruit for good measure. For packaging the Leading Ladies utilized plastic accentuated by coconut shell and closed with attractive ribbon.
The Sagital Company created its own sensation with its dips and sauces including its catchily-named Exotic Fruity Dip made from a variety of fruits that included soursop juice and yogurt and the Pumpkin Pie Dip comprising honey, cream, pumpkin and spices. The Spicy Herbal Bar B Que made from homemade barbecue sauce, honey, mustard, mixtures of herbs was also an attention-getter.
Pressed to apply marketing techniques as part of their production promotion the students employed an assortment of calling cards. The Sagital Company employed its IT skills to develop a web site that offered an attractive display of its products. Sagital also produced a theme song to accompany its slogan: "Deliciously healthy it makes you wanna flip n' dip."
On the whole, the event succeeded in providing the students with a realistic sense of the world of business.
The Carnegie School of Home Economics has been at the centre of plans disclosed some months ago to launch a local Hospitality School. Its graduates are already in demand in various sub-sectors of the hospitality sector as well as on cruise liners, which speaks to its high standards of tuition. Some have even migrated to the United States where they seek employment and further their studies.
On the whole, the quality of the displays bore evidence of a measure of research into packaging and marketing, providing a clear indication that Carnegie is preparing its students for the world of work.
Around the Web