Local business houses now have at their disposal the service of a tool that helps them measure the value they receive for their advertising dollar by determining just how much of what they disseminate actually reaches the market.
The four-year-old Media InSite Ltd, which has its origins in Trinidad and Tobago has just begun to offer the Guyanese business community what it says is a "cutting-edge media monitoring products and services" facility.
It is a service that larger local business enterprises that make multi-million-dollar investments in advertising across the spectrum of mass media are likely to show an interest in. Controversy over the difference between ads paid for and ads broadcast or screened is not altogether unheard of in Guyana and hitherto there has been no known foolproof way of monitoring outside of painstaking visual tracking. Media InSite boasts the capacity to "digitally track audio 'fingerprints' of broadcasts across radio and television" and also "track print media for occurrences of advertisements, corporate and brand mention as well as news and editorial content." In effect, Media InSite is sending a less than subtle message that apart from simply monitoring media it can package and provide information that can prove valuable in corporate boardrooms.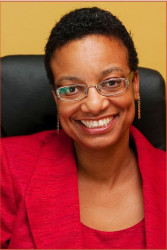 The service is already 'up and running' in Trinidad and Tobago, Barbados, and Jamaica and Stabroek Business has learnt that the entity has only just inked a service agreement with at least one major local company.
The marketing of Media InSite's services in the region is spearheaded by its Chief Executive Officer Allison Demas, an attorney, whose distinguished surname precedes her in regional circles.
When Stabroek Business spoke with Demas just over a week ago she was upbeat about the prospects of the service for the Guyana market. Banks, hotels, restaurants, insurance companies and major manufacturers and distributors are among the sectors that are in Media InSite's sights. Though Stabroek Business is not yet at liberty to disclose detailed contract information we have learnt that one of the country's major beverage manufacturers has signed on with Media InSite.
Apart from its capacity to monitor transmissions from 10 radio stations and 9 television channels locally, Media InSite will also be pressing human analysts into service to glean data that can help provide clients with strategic advertising advice.
Here in Guyana Media InSite has teamed up with the experienced local company Video Mega which will be handling the operational side of the enterprise.
Around the Web