Just over six months after assuming duties as Minister in the Ministry of Social Protection in the APNU-AFC coalition government, Simona Broomes has begun to make waves in the labour relations sector. You sense, when you engage her that her effort derives from a combination of the force of her personality and her seeming complete commitment to what she does. It is not by accident that she has attracted generous measures of curious contemplation and public endorsement.
Broomes says she is driven by a "commitment to raising the bar," as far as respect for the country's labour laws and workers' rights are concerned. "Business cannot only be about profit. It has to be about creating an environment in which workers get what is theirs and in which they can work in a safe environment," she says.
She links her pursuit of an enhanced working environment to encouraging both local and overseas investment and boosting the economy. "I believe that improved labour relations and respect for workers' rights can actually attract more investment in the country's economy," Broomes told Stabroek Business on Tuesday.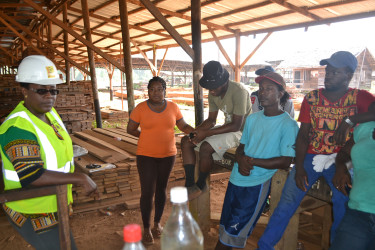 The woman who comes to politics from the gold-mining industry says she is disturbed by some of what she has seen since commencing her visits to workplaces across the country. "We must not hide the fact that in some instances it is bad," she says. "We have had years of serious worker exploitation in Guyana. During that time there has been little if any official intervention to correct the situation. I have seen cases of working conditions that are downright unacceptable. Safety conditions that threaten workers' health and their lives. We cannot talk about workers' rights whilst allowing those situations to continue."
Sometimes she appears to decouple herself from the trappings of her office, making excursions onto the urban high streets, for example, dropping in on business places, labour officers in tow, to engage proprietors and employees alike. "There are times when we must put the formalities aside. There is work to be done and it cannot always get done from the office," she says. "At the end of the day it is the change that counts."
There are other road trips too, to distant corners of the country, rubbing shoulders with aggrieved workers, listening to them articulate their grievances then engaging managers and employers in tough discourses that focus on remedies.
Overtime, her Brickdam office has come to resemble a busy waiting room for aggrieved workers, rather than a well-ordered minister's secretariat. There, frequently, employers and employees meet to settle disputes on terms which would already been addressed by a team from Broomes' office. Some of those disputes would have had a bearing on sums of money owing to employees and which would have been outstanding for several years.
In the negotiating setting of her Brickdam office, Broomes has been known to settle some of those long-standing differences in a matter of minutes. In the process she presses her staff into service urging them to examine each matter carefully and against the backdrop of the law after which she simply lays it on the line for employers.
She favours an approach that causes employers to recognize the virtue in a brand of diplomacy that embraces her persuasive abilities and without resort to rancor. But in the face of intransigence, Broomes is not afraid to tread a more assertive path, providing obstinate transgressors with the less pleasant though still entirely legal option to voluntary compliance with the law. There have been cases in which her assertiveness has had to encounter threats of legal challenge. That, however, never deters her. "I did not make the laws. My job is to enforce them," she says, in a matter-of-fact manner that seeks to send a message that the threats do not perturb her in the least.
Broomes says, however, not unmindful of the fact that hers is often be a delicate undertaking. "We need to take several things into account. We need to be aware of the fact that investors are important to the country's economy; so that while, on the one hand we must remind them of the importance of labour laws and about workers' rights we need to be careful not to create an environment that would deter investors."
The outcomes of interventions between the Ministry of Social Protection and employers since Broomes has been there have yielded more than $60 million in settlement of workers' entitlements. "What pleases me about these outcomes is the fact that the payments would have made a difference to the lives of ordinary workers and their families. But for our interventions some of those monies would have been lost to the workers and their families forever."
Equally important to her she says are the opportunities that the engagements with employers provide "to remind them of their obligation to abide by the country's labour laws." Broomes says she believes local employers must lead by example. "Obviously, if the local private sector is mindful of the importance of obeying the law and creating a wholesome working environment then it makes it that much more difficult for foreign businesses to do as they please."
Arising out of her interaction with the business sector Broomes says, the ministry has begun to develop "new and valuable relationships" with foreign companies that have invested in Guyana. "Initially there were some difficulties with some companies as far as workers' rights and entitlements were concerned. Once they engaged us at the ministry and we got past the issues that had brought them there we actually developed constructive relationships. Just recently we had an engagement with several of the leading Chinese investors in Guyana who wanted us to engage them in labour laws and labour standards in Guyana."
Following a recent visit to the operations of the Bauxite Company of Guyana Inc in the Berbice River, Broomes caused a statement to be issued from her office asserting that membership of a trade union was a constitutional right. This comment would doubtless have ruffled feathers amongst those employers, including BCGI, who have continually frowned on union representation. It was this statement, however, that appears to have galvanized the BCGI workers into pressing their union, the Guyana Bauxite & General Workers Union to seek to rekindle its profile among the workers. The statement emanating from Broomes' office may also have triggered the recommendation from the Guyana Trades Union Congress and GB&GWU General Secretary Lincoln Lewis that Broomes be elevated to Cabinet status.
Last week, after it appeared that Broomes had decided that her team would take a seasonal break from her exertions she spoke in more measured tones about the need to provide training, both for her staff at the ministry as well as for the employers. "The training is important. We need our people at the ministry to understand their role and to be prepared and equipped to respond to situations. No less important, is the need for the ministry to serve as "a place for training and orientation" for employers. "We have to create an environment in which there is no excuse for failure to observe the laws. All of this has to do with creating a healthier working environment and workers who have an incentive to work. I believe that at the end of the day that will make all the difference to their efficiency and to the country's economy."
Around the Web