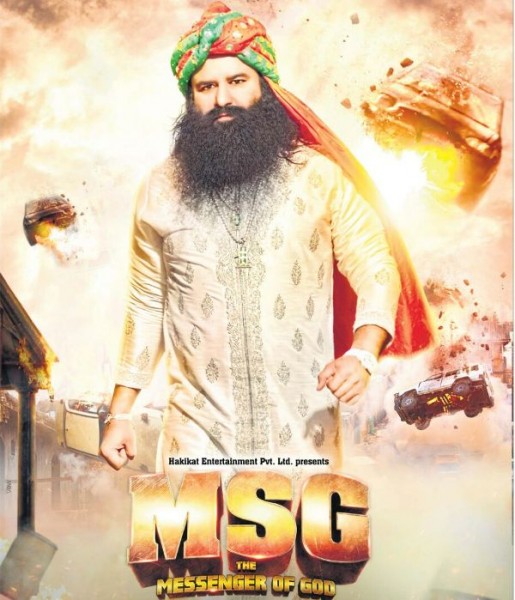 NEW DELHI, (Reuters) – An Indian film that features a self-styled spiritual leader in jewel-studded costume riding motorbikes and sending the bad guys flying has prompted the chief of the country's censor panel to quit, citing government interference.
Other members of the panel were expected to quit today, in support of Leela Samson's resignation after an appeals tribunal reversed censors' decision to keep the film, "MSG: The Messenger of God", out of theatres as being too promotional.
"There is interference, there is coercion," Samson told television broadcaster CNN-IBN, adding that the appeals tribunal, whose decisions usually take a month, had cleared "MSG" within 24 hours.
However, the government, which runs the censorship and appeals process, did not interfere, said Rajyavardhan Rathore, India's junior minister for information and broadcasting.
"If they had to give it a certificate and overrule us, why have a board in place?" Samson told Reuters.
Another panel member, Ira Bhaskar, said she would resign later today in support of Samson, with others to follow.
"This is not an environment in which we can function as a board," she told CNN-IBN.
The imbroglio has delayed the release of "MSG", which stars Gurmeet Ram Rahim Singh, the 47-year-old leader of the Dera Sacha Sauda sect, beyond its originally set date of today.
But far from being unsuitable, say the film-makers, "MSG" fights alcoholism and drug addiction, and extols the virtues of celibacy and a vegetarian diet.
"My film does not talk about religion nor mention any religion," Ram Rahim Singh told a news conference on the outskirts of the capital, New Delhi.
Singh said he was bemused by the fuss over "MSG", but did not give any reason for calling off a hastily arranged premiere. It was unclear when the film would open in cinemas.
The debate over the film went viral on social media, with hashtags #MSGinCinemas and #WeLoveMSG trending on Twitter.
"All hail freedom of expression. MSG … is India's Charlie Hebdo," said Twitter user "Finger of India", referring to the French satirical newspaper attacked by Islamist gunmen this month.
ROCKSTAR GODMAN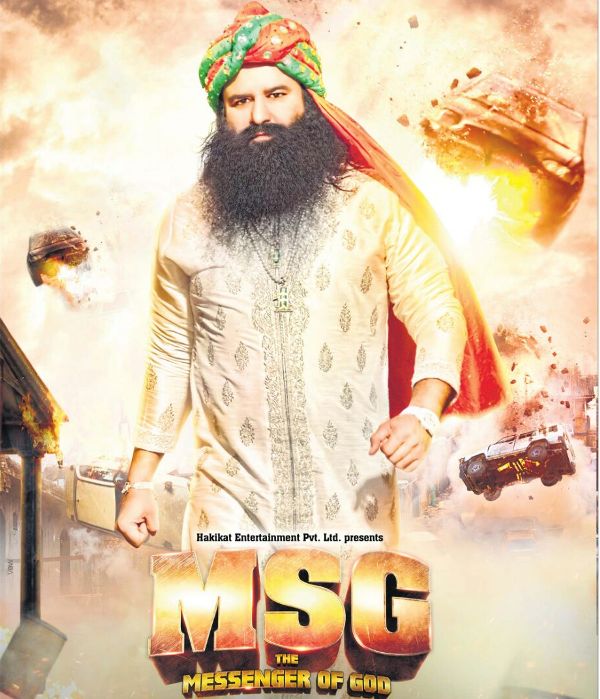 The movie's trailer, which has racked up more than 2 million views on YouTube, shows Ram Rahim Singh, complete with flowing beard and hairy outstretched arms, glaring at evildoers before scattering them with his fists.
Mobbed by thousands of doting disciples, he struts and sings like a Bollywood hero.
Singh wrote and co-directed the film, besides singing and composing its music.
A sequel is in the works with profits earmarked to fund a hospital and HIV research centre, said Aditya Insaan, a spokesman for the film's distributor, Hakikat Entertainment.
Even apart from the celluloid derring-do, Singh is a controversial figure.
In December, a court asked federal police to investigate claims that Singh forced 400 followers to undergo castrations at his ashram in northern India, in order to experience God.
Singh has denied the allegations, but India's Central Bureau of Investigation has filed a case.
Several groups representing the Sikh minority that makes up 2 percent of India's population of 1.2 billion have demanded a ban on the film, in which they say Singh distorted their scriptures and dressed up as a 17th-century Sikh guru.
"We are not against freedom of expression, but the organisation against Sikhism," said S. Simranjit Singh Mann, the chief of one such group.
In New Delhi, about a hundred Sikhs held a protest march near Parliament. They carried placards and shouted slogans against Ram Rahim Singh. In the town of Hisar, about 150 kilometres (93 miles) west of the capital, protesters burnt an effigy of the leader.
Comments

LOS ANGELES,  (Reuters) – Romantic fantasy "The Shape of Water" won the best picture Oscar on Sunday, the film industry's most prestigious honour, on a night where themes of female empowerment and activism almost overshadowed the awards.

LOS ANGELES (Reuters) – Animated "The Emoji Movie" stunk up the annual Razzie awards on Saturday, tanking below all contenders for worst achievements in film, while Tom Cruise and Mel Gibson were also roasted for 2017's most ignoble performances.
CAIRO (Reuters) – Egypt's top court on Saturday dismissed all outstanding legal challenges to a deal transferring two Red Sea islands to Saudi Arabia, a day before a visit by its crown prince.

(Reuters) – Thousands of fans lined the streets of Mumbai yesterday, some weeping quietly, others running behind the hearse, as they joined Bollywood stars in paying tributes to actress Sridevi who died at the weekend in Dubai.
LOS ANGELES,  (Reuters) – The Academy Awards, the glitziest night in show business, takes place on Sunday, but the biggest drama may be not on the Dolby Theatre stage but behind-the-scenes moves to tackle the sexual misconduct scandal that has rocked the industry.