I take it that you are still thinking of ways to use your preserved limes. If you recall, I did mention that you could use it to make a salad dressing. The rice in this salad absorbs just enough of the briny, limey, citrus notes that are very pleasing on the palette. The fresh tender herbs release their flavour with every bite while the cucumbers cool things down in preparation for the next fork or spoonful.
Use the freshest of herbs for this rice and herb salad. I used Basmati rice to make my salad but any rice can work – white, long or short grain, parboiled, or brown rice.
The salad can be dressed half an hour before you are ready to serve it, however, I would prefer that you add the sliced cucumbers only just as you are about the serve the salad. This is to keep it (the cucumber) cool and crisp.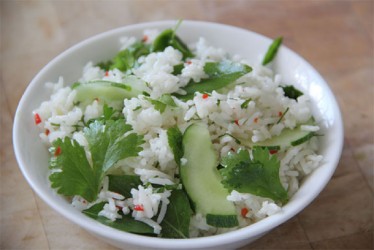 The quantities for this salad are up to you, use as many or few herbs as you have available to you and as much or little in terms of quantity; same thing for the salad dressing.
Serve this salad as a side dish to any seafood or meat dish.
INGREDIENTS
For salad dressing:
Preserved limes, seeds removed, flesh and rind pureed
Red onions, finely minced (optional)
Neutral tasting oil
For salad:
Cooked rice, cooled to room temperature
Tarragon, finely chopped
Parsley, finely chopped
Cilantro/coriander, leaves removed from the stems
Green onions/scallions, thinly sliced (white and green/purple parts)
Whole baby basil leaves
Mint, leaves stacked, rolled together and thinly sliced (chiffonade)
Tender celery leaves, finely chopped
Hot pepper, seeds discarded and pepper finely minced
Cucumbers, peeled or unpeeled, cut in half, seeds removed and sliced into thin half moons
DIRECTIONS
For salad dressing:
Add all the ingredients to a bowl and whisk together until well blended. Set aside.
For salad:
Toss the rice with enough of the salad dressing to coat and dress the rice. Taste for seasoning (salt) and add if necessary. Let rice and dressing stand for 10 minutes.
Add the remaining ingredients except the cucumbers and gently toss of mix with the rice. If you have any dressing remaining and would like to add a little more to the salad, do so at this stage, however, be careful not to overdress the salad.
Cover with plastic/cling wrap and let stand at room temperature for at least 20 minutes before serving. The salad can be made up to 1 hour before serving.
Gently fold in the sliced cucumbers before serving.
NOTES
Cook the rice with salt or with stock to give it some flavour. Bear in mind that the salad dressing will have in salt, so be sure to under season the rice a little.
In place of preserved limes, you can use fish sauce and fresh lime or lemon juice or fresh lime/lemon juice and salt.
For the dressing use the standard 3-to-1 ratio: 3 parts oil, 1 part vinegar. In this case your "vinegar" is the preserved limes or lime/lemon juice, whichever you are using. So if you are using the pureed preserved limes, for every tablespoon of the puree use 3 tablespoons of oil. However, if you want your dressing more limey and briny, use more of the preserved limes and less oil.
Around the Web