Fish broth made with any part of a fish is like soul food. It feeds you in ways that are deeply satisfying. Full of the right kind of nutrients it is like a cure for all your ills.
A broth contains all the essence of its main ingredient and is intensely flavourful. You can eat it on its own or with crusty, hearty bread, or boiled ground provisions.
There is no precision in terms of a strict recipe to make this broth. It is essentially cooking the fish head with a few aromatics that enhance the flavour of the broth. Fish cooks up easily, the head will take just a little longer, however, you will be done cooking this is less than half an hour.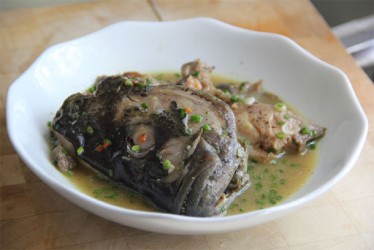 You'll need:
A large fish head (any type of fish)
Salt and freshly ground black pepper
Finely minced onions
Sprigs of fresh thyme
Fish stock, vegetable stock or water
A pat of butter, optional
Here's what to do:
Clean and rinse the fish head and pat it dry.
Lightly season with salt and pepper and set aside.
Add the onions, thyme and stock or water, whichever you are using to a pot and place over medium high heat. Bring to a boil and let cook for 3 minutes.
Gently lower the fish head into the boiling stock/water, cover, reduce heat to low and cook until the fish head is cooked through and it is easy to pry apart.
Add the butter, taste for seasoning (salt and pepper) and adjust to suit your taste. Cook for another couple of minutes then remove from heat and let rest for 5 – 10 minutes before serving. If you like, garnish with chopped parsley or sliced green onions/scallions.
NOTES
If you have a really large fish head, let the fishmonger cut it in half for you or do it yourself.
The cooking time for the fish head would vary depending on the size of the fish head and the type of fish.
Add only enough stock or water that comes up halfway around the fish.
If you are using liquid stock or stock cubes, be sure to taste for salt before adding more to the dish.
Other aromatics to flavour the broth – celery, tomatoes, crushed garlic, crushed ginger.
Diced carrots, pumpkin or leaves of spinach/callaloo can be added to the broth.
Around the Web