Fish en Papillote is fish in parchment paper. It is a style of cooking fish. The fish is encased in a parchment parcel along with herbs and or vegetables and cooked in the oven. Think of it as another way of steaming the fish. With this method of cooking – fish in parchment – the fish remains moist, tender and is intensely flavoured with the ingredients in which they were encased.
Another way to think of fish en papillote is fish that is wrapped and cooked in banana leaves; it is the same principle. The fish and accompanying ingredients produce their own sauce that is easily mopped up with bread or spooned over boiled ground provisions. In addition to fish, shrimp can also be cooked this way.
Depending on how you plan to serve the dish, you can make individual packets with cut pieces of the fish or one large package with the fish whole. Any type of fish would work for this recipe. I had butterfish so that is what I used. The amount of vegetables and herbs used is at your discretion.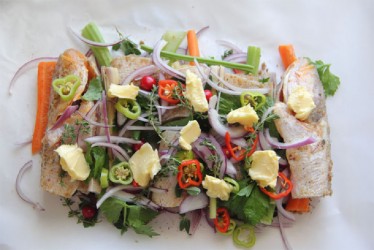 Special Equipment
Parchment paper
Baking sheet
Ingredients
2 whole butterfish (or any fish of your choice, whole or cut)
Salt and pepper to taste
1 large carrot, peeled and cut into 3 – 4-inch long strips
1 celery stalk cut into 3 – 4-inch long pieces (substitute 3 sprigs of celery, stalks and leaves separated
4 sprigs fresh thyme
1 large onion, peeled and sliced thinly
Zest of 2 limes
1 whole hot large pepper (scotch bonnet), sliced thinly
Butter (salted or unsalted)
Directions
Preheat oven to 375 degrees F.
Wash and clean the fish, pat dry, cut in half and season with salt and pepper to taste (be sure to season the cavity of the fish as well). Set aside.
Tear a large piece of parchment paper and layer it over the baking sheet.
Spread half of the carrots, celery, thyme, onion, lime zest and pepper in the center of the baking sheet. Dot with pats of butter then sprinkle with salt and pepper.
Arrange the fish over the vegetables and herbs then spread the remaining ingredients over the fish. Dot again with butter and season with salt and pepper.
Bring the two ends of parchment together, bend and fold and keep folding just before it touches the fish. Now bend and fold the two ends until they are close to the ingredients. The bottom line is this, fold the parchment so that the fish and ingredients are securely enclosed, therefore, use a folding method that works for you.
Transfer the pan with the fish en papillote to the oven and cook for 20 – 25 minutes or until the parchment puffs up and gets browned.
Remove pan from the oven, let rest for 5 minutes then serve. Be careful when cutting or unwrapping the parchment, as hot steam would have built up.
NOTES
Bone-in fish takes longer to cook than fillets, in the same way, whole fish will take longer to cook than cut fish.
The cooking time will also vary depending on the size and thickness of the fish.
Other herbs such as marjoram, scallions, tarragon can work and quick cooking vegetables such as spinach and pumpkin (cut into small chunks), as well as sweet peppers can work too.
Remember that parchment paper is NOT the same as wax/greaseproof paper. Do not use wax/greaseproof paper for this recipe as it will tear and not provide the barrier needed to cook the fish and keep it moist.
Around the Web