This is one of those situations where there is excess on the market so you buy extra and find ways to preserve it. Sweet peppers, especially the large ones, which are also called bell peppers, can fetch a premium price for most of the year, especially around the end of the year. My favourite ways to enjoy these beauties first require some charring over an open flame.
When fire-roasted the peppers become pliable and meaty. Due to their inherent notes of sweetness, splashes of apple cider vinegar and a sprinkling of sea salt transform them into a pickle that you want to have with everything – between sandwiches, atop pizzas, encased in wraps or diced finely to mix into your food. Throwing them into a blender and pulsing until smooth gives you a rich, thick sauce that you can use on seafood, poultry or toss with hot pasta. You can even use it as dip; goes beautifully with roasted shrimp.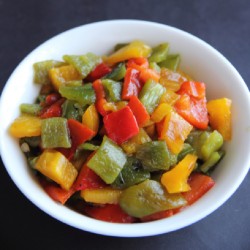 The "recipe" is simple,
Ingredients
Finely minced hot pepper (optional)
Directions
Roast the peppers over a medium low flame and turn it intermittently until the entire outsides of the pepper is charred. Put the peppers into a plastic bag and secure tightly so that the peppers can steam. Do not wait until you are finished roasting all of the peppers before adding them to the bag and tying it. Add the peppers to the bag as soon as they are done cooking. Let the peppers rest and steam for about 10 – 15 minutes.
Remove the peppers from the bag and rub the charred skin. It is okay if you get pieces of the char remaining. Do not be tempted to rinse off the pepper, as that would dilute the overall smoky flavours.
Cut the pepper and remove the inner seeds and stems.
Cut the peppers into squares or lengthwise, put in a bowl and set aside.
Add some vinegar to a bowl, and whisk in salt a little at a time until it dissolves and suits your taste. Keep adjusting until the vinegar-salt mixture suits your taste.
Pour some of the vinegar dressing over the peppers, a little at a time and toss to mix and absorb. Do not add all the dressing at the same time. Toss well to coat and let rest for 20 minutes before serving.
Keeps well in the refrigerator in an airtight container for 2 weeks.
Around the Web