A few days ago I bumped into Mr. Robert Badal who is a well-known Guyanese investor and capitalist. I told him jokingly they should study his DNA structure for a risk-loving gene because he seems to have a penchant for taking on excessive risks, particularly investing while opposing the government of the day. Most capitalists would have fled given the opposition he faced, including the deliberate use of taxpayer monies to build the Marriott to compete with his Pegasus. A running principle of this column holds that government industrial policy should promote, complement and not substitute. If government is going to invest in hotels, they should open up new areas to make it easy for tourists to access Guyana's beauty hidden away in the remote corners of the country. Government must complement and not compete with existing businesses given the challenges and high cost of doing business in this country.
We had a serious discussion on what an energy policy for Guyana should look like. In general, Robert argues that there should be a portfolio of renewable energy sources and natural gas should be used as the fossil fuel or non-renewable back up. For example, natural gas, solar and bagasse can be utilized in Demerara and Berbice; wind/solar/hydro/natural gas for the Essequibo islands and coast. Given the dispersed settlement pattern of the hinterland, it would require small hydroelectric plants (where possible) and solar power since it will require high upfront costs to establish a connected grid system for the hinterland. Power generation would have to be localized in the hinterland so as to minimize the unit cost of electricity.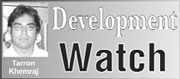 These views are quite consistent with the views expressed in Development Watch over the past few years. It is well known that portfolios reduce unsystematic risks. Old people say, don't put all your eggs in one basket. One of Mr. Badal's disappointments is he cannot sell electricity to the coastal grid system. His solar panels used to power Pegasus will generate surplus electricity that he would like to sell to GPL. If Pegasus, other Guyanese businesses and families can sell surplus electricity, they are now producers of electricity (not just consumers) boosting GDP in the process with clean renewable energy. It also saves foreign exchange over time.
This approach is already in use in Barbados, the United States and numerous other countries. It is now an old technology. It's an indictment of the father of the LCDS that this simple idea cannot be realized in Guyana in 2015. In Barbados the rate of sale of electricity by families and businesses is growing exponentially in the past six years. They even have plug in stations as the island moves to electric cars this year. There is no need for Guyanese to throw back and complain about high energy cost until the big silver bullet hydroelectric plant comes into being.
Robert believes that natural gas plants should replace the current ones using heavy fuel. He is in good company. American billionaire T. Boone Pickens has a similar plan to use natural gas as the bridge energy source until superior forms of renewable energies emerge. Superior sources of renewable energy are already here, but there is still justification for natural gas on several grounds. First, it is much cheaper than heavy fuel. My ad hoc calculations have it equalling the proposed Amaila hydroelectric plant in terms of price GPL would have purchased. Second, it gives half the harmful global warming gas compared with coal or heavy fuel. Third, this gas can be purchased from a sister CARICOM country, Trinidad and Tobago.
On the down side, it still requires an import, thus an outflow of foreign currency. The lower price does eventually save on foreign exchange compared with current use of heavy fuel. In the very long term, if Caribbean leaders can pull things together it is possible to have once again a regional clearing of currencies that eases the foreign exchange constraint for Guyana and CARICOM as a whole. Second, although natural gas burns 50% cleaner, there is leakage of methane during transportation and emission during burning at the electric power plant. Methane is a harmful greenhouse gas.
Switching to natural gas requires building a large storage facility next to the power plant in Georgetown. This presents an opportunity for government and local investors to cooperate in a complementary process of employment creation and industrial development.
One important point to note about renewable energies is they create room for the development of certain skills and talents to evolve. A pump-and-sell strategy of crude oil out in the sea will bring much needed revenues, but it will not have that spillover of skills to other sectors of the economy. Renewable energies require human ingenuity that will have spillover effects elsewhere. In other words, productivity and ingenuity in the energy sector will breed same in other sectors of the economy. This is an old idea that goes back to economist Nicholas Kaldor who discovered that manufacturing engenders these favourable productivity spillovers in other non-manufacturing sectors of the economy. Think about a shipbuilding yard. The skills gained there have numerous applications in other industries of the economy.
One of these days bright and enterprising Guyanese boys and girls will discover a new and better way of storing electricity generated by renewables. We cannot foresee the possible spillovers and discoveries in the future as this is the essence of technological innovations. This is why they are called shocks! They come out of the blue, but they generate vast amounts of wealth for those who established the initial conditions for these random shocks to take place.
Comments: tkhemraj@ncf.edu
Around the Web