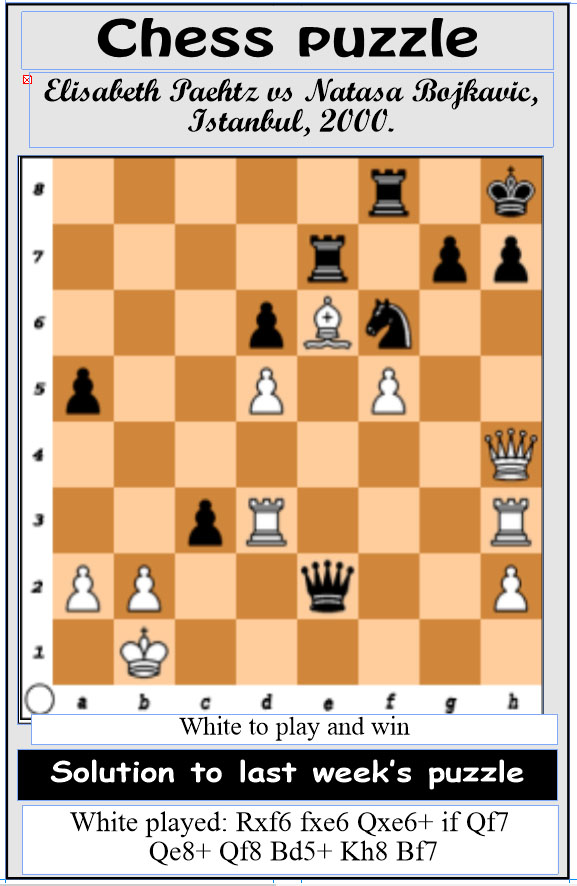 At the stiff 2015 European Team Chess Championships which was held in Reykjavik this month, Russia triumphed with double gold medals in the men's and women's categories.

It was an eloquent statement for the condition of Russian chess which some believed had been compromised. Russia has been without a world chess champion for the past fifteen years. Realistically, talent has never been in short supply for the Russians as evidenced by the fact the nation did not bring out its absolute strongest guns; but still managed double gold at the fierce championships. Peter Svidler, not without titles and accolades, played board one for Russia, and Alexandra Kosteniuk, former world champion, did the same in the women's category.
Going into the final round of the men's competition, Hungary had an opportunity to snatch gold away from Russia. But it was not to be; Russia serenely drew the match 2-2 thereby ensuring the gold medal. Hungary was captained by the world-famous Judit Polgar, who did not play. The team's brightest star was Richard Rapport who gave a 2828 performance rating. Hungary won the bronze medal. The silver went to Armenia with the top-ten player Levon Aronian on board one. He was reinforced by the second board player Gabriel Sargissin who played superbly for a 2800+ performance rating and entry into the exclusive 2700 Club.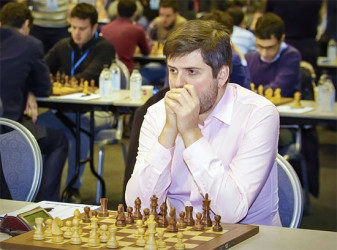 In the women's competition, Ukraine took the silver medal with a sterling performance by Mariya Muzychuk who delivered a 7.0/8 score. The result has placed her as the world's number three women's chess player behind Koneru Humpy of India and Hou Yifan of China. Georgia took the bronze.
Eight of China's strongest men players and eight of the country's finest women players are currently clashing in a select Kings and Queens knockout tournament in Taizhou, China. The tournament is significant because China possesses some of the world's most vigorous players. At the conclusion of the first round Ding Liren, one of China's top boards, was eliminated by its number 12 player Lu Shanglei, the 2014 world junior champion. And Wang Yue, China's board one player at the 2014 Tromso Olympiad, was defeated by Bu Xiangzhi. Chinese teenage prodigy Wei Yi won his match easily against Zhao Jun. More surprises are expected in the days ahead before the tournament ends on December 1.
Chess games
The following games were played at the 20th European Team Chess Championships in Reykjavik, Iceland, which ended last Sunday.
White: Magnus Carlsen
Black: Yannick Pelletier
1. c4 Nf6 2. Nc3 c5 3. Nf3 e6 4. g3 b6 5. Bg2 Bb7 6. O-O Be7 7. b3 O-O 8. Bb2 d6 9. d4 cxd4 10. Nxd4 Bxg2 11. Kxg2 Qc8 12. e4 Nc6 13. Rc1 Nxd4 14. Qxd4 Qb7 15. Rfd1 a6 16. Ba3 Rfd8 17. Qd3 Rd7 18. Qf3 Bf8 19. Rd4 d5 20. Bxf8 dxe4 21. Nxe4 Kxf8 22. Rxd7 Nxd7 23. c5 bxc5 24. Nxc5 Qxf3+ 25. Kxf3 Nb6 26. Ke4 Ke7 27. f4 a5 28. Nd3 Nd5 29. Rc5 Kd6 30. Kd4 f6 31. a4 Ne7 32. Rb5 Kc6 33. b4 Nf5+ 34. Kc3 axb4+ 35. Kxb4 Nd4 36. Rh5 h6 37. Rc5+ Kb6 38. Rc4 Nc6+ 39. Kc3 Rd8 40. Re4 Rd6 41. Re2 Ne7 42. Rb2+ Kc6 43. Rb8 Nd5+ 44. Kb3 Kc7 45. Rg8 Ne7 46. Rxg7 Rxd3+ 47. Kc4 Rd7 48. Rf7 f5 49. Rf6 Kd6 50. Rxh6 Rc7+ 51. Kb3 Nd5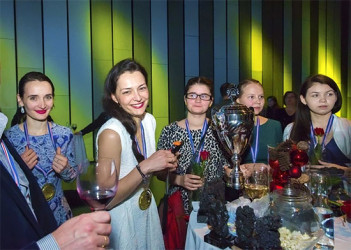 52. Rh8 Rc3+ 53. Kb2 Re3 54. a5 Kc5 55. h4 Rxg3 56. h5 Rh3 57. h6 Nf6 58. a6 Kb6 59. Rd8 Ne4 0-1.
White: Magnus Carlsen
Black: Radoslaw Wojtaszek
1. d4 Nf6 2. Bf4 d5 3. e3 c5 4. c3 Nc6 5. Nd2 cxd4 6. exd4 Bf5 7. Qb3 Qc8 8. Ngf3 e6 9. Nh4 Be4 10. Nxe4 Nxe4 11. Nf3 Bd6 12. Bxd6 Nxd6 13. Bd3 Qc7 14. Qc2 O-O-O 15. O-O h6 16. a4 Kb8 17. Rfe1 Rc8 18. Qd1 Rhe8 19. Bf1 Re7 20. Rc1 Rd8 21. Re2 Ne4 22. b4 Ng5 23. Ne1 e5 24. b5 Na5 25. Rxe5 Rxe5 26. dxe5 Qxe5 27. c4 Ne6 28. Nf3 Qf4 29. cxd5 Rxd5 30. Qxd5 Qxc1 31. g3 Qc5 32. Qd7 Qf8 33. Ne5 Nc5 34. Qd5 Kc7 35. Nxf7 Nxa4 36. Qe5+ Kb6 37. Nd6 Nc5 38. Ne8 1-0.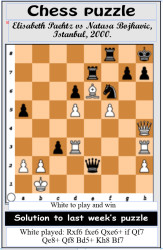 White: Gabriel Sargissian
Black: Alexander Grischuk
1. Nf3 c5 2. c4 Nc6 3. d4 cxd4 4. Nxd4 e6 5. Nc3 Nf6 6. Bg5 Be7 7. e3 O-O 8. Be2 d5 9. cxd5 Nxd4 10. Qxd4 Nxd5 11. Bxe7 Nxe7 12. O-O-O Qxd4 13. Rxd4 e5 14. Rd2 Be6 15. b3 Rfd8 16. Rhd1 Rxd2 17. Rxd2 Kf8 18. Bf3 Nc6 19. Ne4 Rb8 20. Nd6 f5 21. Nxb7 e4 22. Nc5 exf3 23. Nxe6+ Ke7 24. Nf4 fxg2 25. Nxg2 g5 26. h4 h6 27. hxg5 hxg5 28. Ne1 Ne5 29. Rd5 Ke6 30. Ra5 Nc6 31. Rc5 Ne5 32. Kd2 Rh8 33. Nd3 Nxd3 34. Kxd3 Rh2 35. Rc2 g4 36. b4 Rh1 37. a4 Rb1 38. Kc4 Ke5 39. Kb5 Kd5 40. Rc5+ Ke6 41. Rc4 Rb3 42. Ka6 1-0.
White: Anish Giri
Black: Alexey Shirov
1. e4 c5 2. Nf3 Nc6 3. Bb5 g6 4. Bxc6 dxc6 5. d3 Bg4 6. Nbd2 Bg7 7. h3 Bxf3 8. Nxf3 Nf6 9. e5 Nd5 10. O-O Nc7 11. Be3 Ne6 12. Re1 Qc7 13. Bd2 Rd8 14. Re4 Nd4 15. Bc3 Nb5 16. Qd2 O-O 17. Rae1 Nxc3 18. Qxc3 Rd5 19. b3 b5 20. Qd2 Qb6 21. Qe3 Qa5 22. c4 bxc4 23. dxc4 Rdd8 24. Qe2 e6 25. h4 Rd7 26. h5 Rfd8 27. hxg6 hxg6 28. g3 Qc3 29. Kg2 a5 30. Re3 Rd3 31. Rd1 1-0.
Around the Web