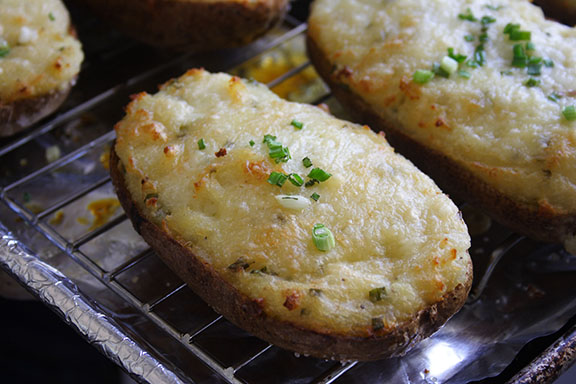 Yield: 10
INGREDIENTS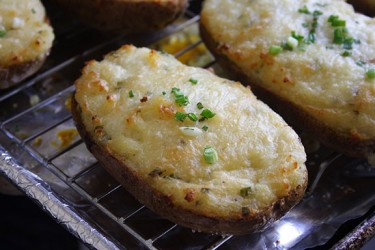 5 large russet or Idaho potatoes
Oil
Salt
3 – 4 tablespoons butter
½ cup whole milk
3 cups grated sharp cheddar cheese for filling and topping
¼ cup thinly sliced green onions
Freshly ground black pepper, to taste
DIRECTIONS
Preheat oven to 400 degrees F with the rack in the middle.
Scrub potatoes under running water to remove dirt. Pat dry. Drizzle oil and rub all over potatoes, sprinkle with salt. Take a fork and prick all over the potatoes to prevent them from exploding while cooking.
Transfer potatoes to a baking sheet with a wire/cooling rack inserted or place directly on the oven rack. Cook for 1+¼ hours to 1+½ hours depending on the size of the potatoes. To test for done-ness, squeeze the potatoes – they should give a little.
Remove the potatoes from the oven and let cool for about 10 minutes. Cut the potatoes in half horizontally (you can cut it in half vertically if you like). Take a spoon and scoop out the flesh of the potatoes into a bowl; don't go right down to the skin, leave a thin layer of potato. Repeat until all the potatoes have been scooped out.
Add the butter, milk, 2 cups grated cheese, green onions along with salt and pepper to taste and mash until everything is mixed together. If you like your filling a little chunky, don't mash until smooth.
Fill the potato jackets with the filling, smooth the top if you like. When all the jackets are filled, sprinkle remaining cheese on top of potatoes.
Transfer potatoes back to the baking sheet and cook for 30 minutes or until cheese has melted. OR turn on your broiler and cook the potatoes until the cheese is melted – about 10 to 15 minutes depending on your broiler.
Serve hot as is, as a side dish or with a salad.
Around the Web