By Jannelle Williams
Much like a baton in a relay race, cultural traditions are passed from generation to generation. But what happens when someone refuses to carry the baton? Quite simply, the runners are eliminated from the race entirely. As in a relay, generations must work collaboratively handing the baton of cultural traditions on to the next and the next. It is not a relay if one runner refuses to pass the baton or to collect it, more especially if it is dropped.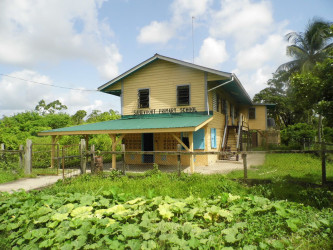 The village of Sandvoort in West Canje, Berbice was once known for its rich African cultural heritage, drumming traditions and its overt annual celebration of emancipation. But today, it seems that someone has dropped the baton and posterity will be bereft of these connections.
Shortly after the abolition of slavery, the entire area which is now known as Sandvoort was established as a self-governing village. It was divided into two sections: the Dutch Quarter and English Quarter. Later a third section was established, known as Congo Town. Residents were known descendants of three African tribes: Oku, Quashy and Congo. They passed on their culture of drumming, singing, dancing and storytelling which they brought with them from Africa. However, this once maintained tradition has died an unnatural death, the village elders believe.
Agnes Levi, 76, who has spent all her life in Sandvoort, in an interview with Lifestyle reminisced about growing up in the village. "The culture was rich. All like how Emancipation coming up, the men would clean the village from the burial ground right down to Rising Sun [a neighbouring village, now abandoned]." This, she said, was in preparation for the celebrations to come. "During the week, we had special drum men, who would start with the drumming to liven up the village and as schoolchildren, after school finish we would run, and go there and listen and do we lil dancing," she said. Levi recalled that balata bleeders 'Dada' Bascom and David Carmichael along with others were responsible for the drumming.
Serious drumming, however, would commence on the eve of Emancipation Day and continue throughout the night straight into the new day. At 5 am on Emancipation Day, villagers would congregate at the now dismantled Orange Chapel Church in the village for service. Nobody would eat home on Emancipation Day, she said, as the men "would kill a bull or two, according to its size, and they would cook on the land which is now occupied by the school."
It was customary for the men to cook while the women and children attended a special service, after which the whole day was spent together eating and making merry. "From the service we would march and go to Rising Sun where we had the big sun koker tree, where the men use to make tents and we would sit there and have our tea consisting of cassava bread, quinches [a sweet cassava cake with dyed shredded coconut in the middle], cassava pone, sweet bread… all the things our ancestors were denied during slavery," Levi said.
Breakfast was the precursor for the day's main event which saw villagers dressing in their finery to participate in a ceremonious procession, involving two queens: the Dutch queen and the English queen. "Where I am living is the Dutch Quarter and we would march and go and meet the Dutch queen and then we would form a procession and march straight to the turn where the English queen would be waiting us there," Levi explained.
The Dutch queen was Mrs La Fleur and the English queen was Mrs Wayne. Both were African-Guyanese women, but the English queen was lighter skinned. Levi does not know how those two women came to be cast as the queens for the yearly events, but noted that they played the roles without fail for several years.
The queens would embrace each other and perform a symbolic greeting involving the use of a sceptre and they would walk side by side with their respective loyal subjects—residents from the Dutch and English quarters—trailing behind them waving flags and singing songs.
Her eyes glazing over and with a faraway gaze, Levi began to sing one of the songs:
Oh Africa awaken,
The morning is at hand,
No more are thou forsaken,
Oh bounteous motherland,
From far thy sons and daughters
Are hastening back to thee,
Their cries ring for the waters,
Oh Africa must be free.
She remembered part of another one:
Ethiopia the land of our fathers,
The land where the gods used to be,
As storm clouds now suddenly gather,
Our armies are rushing to thee,
We must in the fight be victorious…
The procession would conclude at the centre of the village, on the plot of land which now houses the only school in the area and the community library. "We go in and when the men are ready with the food, the children eat first, and the adults after. We had all the food you can think about," the elderly woman said. These events for Levi were some of the best times of her life, as she got to truly learn about her culture. "We would spend the remainder of the day there hearing about life back in Africa from stories passed down by our foreparents, doing our traditional dances, singing our folk songs, and learning how to do the head wraps and stuff," she said.
Unfortunately, over the years, "Those people who use to keep the culture going, they start die out," she said, and it became difficult to continue the tradition. Eventually, the annual emancipation celebration which served as the hub to pass down the African culture, downgraded to a once every couple of years event, as villagers gradually loss interest. "We have a few persons who still know what to do but now the people doing it for gain, which shouldn't happen, and since we don't have the unity we had in the past, it don't happen now," Levi lamented.
Further, she said the celebrations in the village have now become commercialized, so much so that outsiders are coming into the village to capitalize on its tradition by hosting so-called emancipation events and selling African delicacies, an act she vehemently objects to. "You are not supposed to sell anything on that day. Everybody is supposed to unite as one and come to the school to eat, drink and make merry with drumming and dancing as we remember we broke free from the chains of slavery," she declared. Levi believes emancipation celebrations have ceased to have any significant meaning and are no longer a "real celebration, because everybody doing it for a gain now. People will come in and sell their beer and Malta and Smalta."
Another resident, Juliet Moriah, who is one of the few villagers still trying to preserve the African culture, was unapologetic in blaming the Seventh Day Adventist movement that has taken over the village for the death of its cultural heritage. "They are not interested in learning about their culture anymore," she said referring to the younger generation in the village. She went on to explain that "since the village turned Adventist, they don't want the children dance and so if they can't dance, how can they learn their culture?"
While at the school level, the children are taught how to do the dances, so they can represent the school at the Mashramani competitions, according to Moriah this is not done in detail. "The last time we had a programme and we had the girls dancing, the church members come and put them on a bench to sit down and since then we never had another programme," she recalled.
Contributing to the gradual death of what was once a very rich culture is the genuine disinterest towards it shown by the village youth. "Most of these young people they wouldn't come to practice, so they don't know the songs, and dances and stories," Moriah said. The ramifications of this were felt last year when the village attempted to host an emancipation programme and it was observed that the youths had no idea about what to do. Subsequently, a committee was formed to revive the culture. But according to Moriah, who spends a lot of time with her grandchildren, the chances of the committee being successful are minimal. As she sees it, "If the young people not interested to learn they culture, how could we shove it down their throat?"
Aside from blaming the Adventists for pulling persons away from their culture, Moriah also lays some blame at the feet of modern technology. "They [the young people] get their cellphones with their earphones in their ears and they are on Facebook all the time, so they have no time for other stuff."
One of the aspects of the African culture Moriah misses is the deep sense of togetherness and feeling of being one big family in the village, where everyone was each other's keeper to safeguard from outside threats and be a pillar of support in times of need. "I remember that if somebody sick in the village, everybody use to help out because we are one. If your neighbour come over and see you ain't get something, they would go home and bring it for you," she said. There was also a sense of protection. "When young men came into the village, they used to stop them and find out where they going, who they going to and when they find out, they find out their whole generation. Any young man who liming in here, they know his whole history," Moriah stated.
Mourning the loss of the African culture, Moriah said, "They use to get two sets of drummers, a junior group with the small boys and a senior group with the older men and Christmas time they use to get masquerade with people coming house to house." She noted too, "When we get Queh-Queh they use to get people drumming. I see people dancing on their heads already under the influence of the drums. Literally dance on their heads; people use to ketch nuff cumfa."
However, with the advent of Christianity in the village, there are those "people who don't want to hear drum beat now and so after time, certain things had to tone down." Additionally, the village doesn't have "any drum beater anymore nor its own drums." And thus, Moriah has stopped attending the Emancipation service. "I tell them, you can't keep an emancipation service with singing without any drums, like they head ain't good. That doesn't make any sense."
She further remarked, "We need to keep our culture alive; they have different dances like queh-queh, Su-saw, and Yamapele where we wear the plantain bush skirt and we going down and wuk up and your foot kicking up that we need to teach the children."
Theourold Sinclair, 76, is related to the now deceased drummers in the village, who he says were second generation descendants of the three tribes in the village. "They were different tribes but slavery brought them together so much so that they had to unite to stay alive, and pass on legacies to their offspring," he said. Drumming, he explained, was one aspect of their shared past that helped them to unite in a foreign land. He bemoaned the fact that now not even that bit of culture has remained in the village. "The guys who made the drums, they pass on to the other life now and the young people not knowledgeable," he said, adding that while "they might be able to beat a little, but to know the different types of drumming and what it means and for what occasion you would play different beats, they don't know this."
Besides which, he said, "The thing get contaminated now too, with these 'Rasta' guys who mix up the whole thing, so you don't have the pure drumming anymore." Sinclair reflected on the years gone by, when "once a year, all the tribes use to come together for the march and celebration under a big tent with the singing and the drumming and the eating and the story telling."
He said, "Story telling was something we looked forward to. In the moonlight we would sit down wherever was convenient and take turns telling stories. Each family would have their own stories, a part of their history and experiences, some were visions of the next dimension, some had this natural gift that could see beyond this realm, and they would share their visions and so on." Personal experiences were also shared during these storytelling sessions. "They had others who had they own personal experiences with ole higue and moongazers, and these are all stories they told," Sinclair stated. It is his belief the storytelling bonded the villagers together and made them more connected. It is a trait that is missing today which he attributes to "young people having a problem." Clarifying his statement, he said "They don't associate with the older folks so they can't know, they can't learn. Many of the things I know is because I use to associate with a lot of old people and learn. And what an old man would sit down and tell you in 15 minutes, sometimes you can't get that experience in 30 years of your life.
"We are not like the Jews who had scribes to document their history. We keep it in our minds and we pass it down through storytelling. But young people don't want to know, so there is no one we can pass on this knowledge to."
Comments

Tired of being alerted to all that was negative in Guyana on the worldwide web, a couple decided to fight the bad with the good and created a space specifically designed to showcase all that was positive in the Land of Many Waters, giving birth to the Visit Guyana Facebook page.

These two closely-related species prove that it takes two to tango in this midair dance in a Georgetown backyard.
Raindrops on roses and whiskers on kittens… – "My Favourite Things" (1959) by Richard Rodgers and Oscar Hammerstein – The Sound of Music Not everyone will agree with legendary musicians Rodgers and Hammerstein about their favourite things.

Waking up at 4 am to get to remote locations before sunrise might not be your idea of fun, but for local wildlife photographer, Kester Clarke, it's a great way to spend his weekends.

We eat every day, but for some of us, preparing and tasting the same food every week, month and year can get boring.