This is another recipe about adding a little twist to what is deemed traditional. This year, instead of the usual pineapple-jam glaze, spice things up a bit by using a different flavour of jam – sorrel – and some good ole Guyanese achar, preferably mango. By all means use a good quality store-bought sorrel jam but if you have the time, be sure to make your own. If you can't find sorrel jam then use a different flavour of jam. Guava and orange marmalade are excellent accompaniments to achar.
The sorrel jam-mango achar combination gives real fruitiness to the ham. The spices from the achar will have everyone wondering about that lovely flavour. So good. With a glaze like this one, you can skip the mustard (if you like).
To serve the ham, you can make an extra batch of the glaze to serve as a sauce.
SPECIAL EQUIPMENT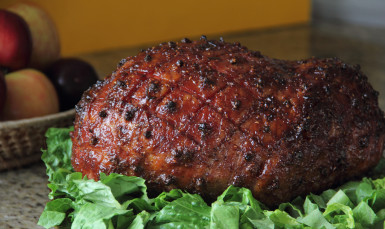 Roasting pan fitted with a rack
Aluminum foil
INGREDIENTS
1 whole ham, cured and fully cooked, defrosted
Whole cloves
For glaze:
½ cup Sorrel Jam
2 heaped tablespoons Mango Achar
1 ½ tablespoons tap water
DIRECTIONS
Line the baking pan with foil, insert the rack and set aside.
Preheat oven to 350 degrees F.
Pat the ham dry; remove the skin (rind) and some of the excess fat leaving about a ¼-inch fat cap over the meat. Score the fat to make diamond shapes.
Stud the middle of each cut diamond shape with a clove. If using mustard, rub it all over the top and sides of the ham.
Transfer the ham to the rack-roasting pan and bake until heated through: 25 minutes per pound. For example, if your ham is 5 pounds, bake for 2 hours and 5 minutes.
While the ham is baking, make the glaze – add all the ingredients to a small saucepan and whisk over medium heat. Let the mixture come up to a simmer and cook for 5 – 6 minutes, remove from heat and cool completely.
30 minutes before the ham is done cooking remove it from the oven and brush the glaze over the top and sides of the ham. Return to the oven and cook for 25 minutes. At the end of the 25 minutes, remove the ham from the oven and brush again with glaze, return to oven and cook for 10 – 15 minutes or until the ham is nicely caramelized (this will take you10 minutes over the cooking time, that's ok).
Remove the ham from the oven and let stand for at least 30 minutes before slicing.
Around the Web