Potato Stacks are thin slices of potatoes, stacked one on top of the other and baked. The combination of herbs, spices or cheese that can be used is flexible. Work with what you have available.
When the pan is removed from the oven, let it rest for at least 20 – 30 minutes before removing from the pan; don't worry, the Potato Stacks will still be hot when you are ready to serve them. The resting time is so that they can set and be easily removed from the pan.
SPECIAL EQUIPMENT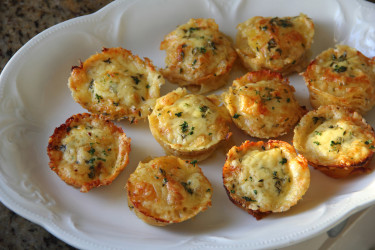 1 standard-size 12-cup muffin pan, brushed with oil
1 sheet pan, lined with foil
Aluminum foil
INGREDIENTS
1 cup whole evaporated milk
2 tablespoons unsalted butter, melted
1 ½ tablespoons mashed roasted garlic
1 tablespoon minced fresh thyme
1 teaspoon fine table salt, divided in half
½ teaspoon ground black pepper, divided in half
2 pounds potatoes
1 heaped cup grated cheddar cheese
Fresh thyme leaves
DIRECTIONS
Preheat oven to 350 degrees F.
Place oiled muffin pan on top of lined baking sheet and set aside.
Whisk together the milk, melted butter, roasted garlic, thyme, ½ teaspoon salt and ¼ teaspoon black pepper and set aside.
Peel and slice the potatoes as thin as you can (use a regular slicer or mandoline if you have one). Season with remaining ½ teaspoon salt and ¼ teaspoon black pepper.
Assemble the sliced potatoes evenly into the muffin cups. Using a tablespoon, stir and spoon the milk mixture over the potatoes. Cover the pan loosely with foil and transfer to the oven. Bake for 35 minutes or until a knife inserts easily into the potatoes.
Remove the pan from the oven and discard the foil that was covering it. Sprinkle cheese evenly over the potatoes and arrange a couple of fresh thyme leaves on top of the cheese.
Return the pan to the oven and bake 15 minutes or until the cheese is golden and bubbly. Remove the pan from the oven and let rest for 20 – 30 minutes before freeing the stacks from the pan.
Around the Web