More than a week after Dhaniram Ramgopaul, 14, disappeared from a family picnic and was later found dead in a Soesdyke creek, a post-mortem examination (PME) has revealed that he died from drowning.
The five suspects, four men and a woman, who had been arrested following the former Apex Secondary School student's disappearance, have since been released.
The PME was conducted yesterday and was the family's second visit to the mortuary for a PME following the postponement of the first.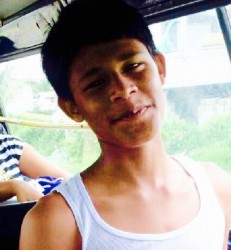 The dead boy's father Kunjbeharry Ramgopaul expressed dissatisfaction with the PME results and maintained that foul play was involved in his son's death.
He went on to say that the marks that were seen on his son's body when it was discovered are still of concern to him.
When contacted yesterday for an update, Commander of 'A' Division Clifton Hicken told Stabroek News that the police had ruled out murder after the PME confirmed that Dhaniram had died of drowning. He added that the five suspects had been released over the past two days.
According to the senior Ramgopaul, the family will be pursuing their inquiries into Dhaniram's death after the funeral's conclusion on Sunday.
The man said he is still puzzled as to the relationship between the former suspects and his son. He explained that one of the men would frequent the area and sell CDs but the other individuals were unknown to him.
"I don't know if they know my son through coming around the area; I don't know. My son is dead and gone so he can't tell me anything," the father lamented. He went on, "Right now the family is just trying to remain cool and make it through the funeral."
According to reports, the Ramgopaul family of Good Hope, East Coast Demerara had been picnicking at a creek opposite the Splashmin's Resort on the Linden/Soesdyke Highway on December 27, when Dhaniram left to visit the washroom. When he failed to return hours later, a search was launched for him but proved futile.
His body was found on December 30 in the very creek the family had searched for hours, clad in the clothes he had last been seen in.
Around the Web