The skeleton of the whale, which died after being found entangled in a fisherman's net at No. 37 Village, West Coast Berbice, was buried at the University of Guyana's Turkeyen Campus on Friday.
The adult pigmy sperm whale, measuring 9 feet, 2 inches, was discovered on Thursday by a fisherman who noticed that his net was extra heavy.
The skeleton was buried on the University compounds while the whale's flesh was taken to the Haags Bosch landfill site.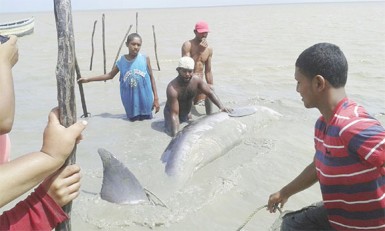 Head of the Biology Department at the University and Chairman of the Wildlife Scientific Authority Calvin Bernard told Stabroek News yesterday that the skeleton was buried at the university compound for the purpose of retrieving it at a later date. He said they might explore recreating a model of the mammal with its bones.
Bernard further stated that Wildlife Scientific Authority was trying to understand the phenomenon of whales travelling closer inland. However, he did state that on both occasions where sperm whales have been discovered the nets of fishermen have been a common factor.
The Authority is looking at ways to manage future incidents, he added.
Last week's discovery was the second incident of a sperm whale, in less than a month, washing up on the foreshore along the coast.
In December, a dead 45-foot sperm whale, estimated to be about 35 tonnes, and believed to have traveled from Mahaicony, Berbice—a few kilometres from where the other whale was found—washed up at the Kitty seawalls.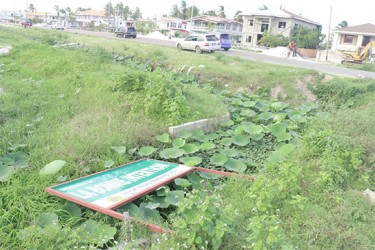 The 9ft whale was discovered by fisherman Stanley D'Aguiar, while he was picking up his seine around 1am. A large rescue team was trying to keep the mammal alive until authorities were able to get it out into deeper waters.
But it died on Thursday afternoon in a hole that fishermen and residents dug in the beach floor to keep it alive.