Ever since Savitri Ramnarine, 33, of Zeelugt, East Bank Essequibo was diagnosed with cancer of the womb she was devastated, mainly because she could not afford the cost for the radiation therapy.
She had become depressed thinking that her condition which is at the initial stage would deteriorate as a result.
Her worries were over though when Majeed Sharif, president of theSave A Life Foundation (SALF) which is based in Chicago, USA readily agreed to help after learning of her plight.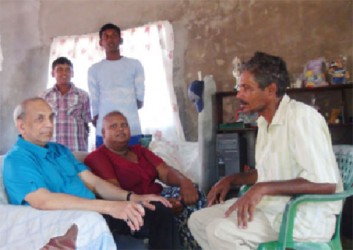 Ramnarine, a mother of two teenage boys had been a patient at the Georgetown Public Hospital where she underwent chemotherapy.
She was then referred to the Cancer Institute of Guyana where several sessions of radiation treatment were required. But that therapy comes with a cost. Her expenses amounted to over $600,000 including the cost for transportation. She was expected to receive a portion of the money from the Ministry of Health.
Majeed said his organization decided to help Ramnarine because she deserves a chance to live a normal life so she can be there for her two sons and to see them grow.
The SALF organization has provided US$1,500 directly to the CIG so she can complete her treatment without hiccups. He was also happy that she was very appreciative of the help.
The woman had supplemented her husband's income by selling items in the market but because of her condition she is unable to continue her trade.
As such, they are unable to save and so their one-flat concrete house is still incomplete.
Upon his return to the US, Sharif also sent a contribution towards fixing the house, further making their lives comfortable.
SALF is a charitable non-profit organization created mainly for saving and empowering underprivileged persons.
Its main goal is to restore human dignity and instill hope in poor communities regardless of race, religion or ethnic background.
Ramnarine is also grateful for the help and support she has received from the Islamic Circle of North America – relief wing, based in Chicago.
Around the Web