The $35 million Petting Zoo at the Zoological Park was officially commissioned yesterday by Natural Resources Minister, Robert Persaud and Commissioner of the Protected Areas Commission, Damian Fernandes.
The Commissioner stated that the Petting Zoo was built with the objective of keeping the animals safe and healthy while holding the maintenance cost to a minimum by having the enclosure utilizing sustainable materials. He noted that the area was built three feet higher to protect against flooding.
Fernandes said that the Petting Zoo, the first permanent such facility in Guyana, was a start to the rest of the overall Three Parks Initiative. While the funding was provided by the government he acknowledged that the zoo would be responsible for the maintenance and upkeep. He said that in the over 50 years that the zoo has been operational the staff had been able to manage with the upkeep, but it is about bringing in money to transform the environment.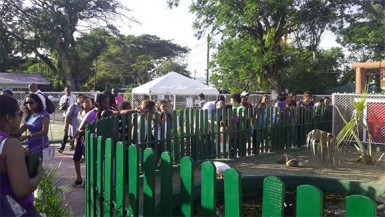 He said that moving forward investors were still needed to ensure that the rest of the zoological project went as planned. Fernandes noted that private assistance was slowly coming in and that the commission will allow for private investors to construct the various works in the Three Parks initiative themselves with the zoo having an oversight role regarding specifications of the various cages and housing facilities for the animals.
The Petting Zoo houses a range of animals including donkeys, goats, ducks and turtles. He said that annually over 120 schools visit the zoo which opens the door for the park to be a centre for learning especially about species native to Guyana.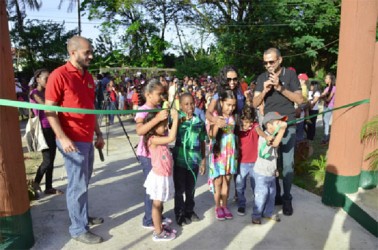 The Petting Zoo will work as a value-added feature for the zoo as persons are allowed to interact with the animals including purchasing fruits and vegetables to feed them. Fernandes said that while the facility was understaffed the zoo accepts a range of volunteers who have more specialized skills to allow for better interaction with the animals and an understanding of conservation.
Persaud stressed that the overhaul of the park will take time but that things were getting done. He said that the various components of the project were still dependent on securing funding.
Hundreds of children and their guardians enjoyed the Petting Zoo as well as a tour of the new walkways located inside some of the cages, allowing for a closer look at the various bird species and caiman.
The manatee pond is one of the larger projects in need of revamping as is a caiman pond
Around the Web