An auto parts dealer has been remanded to prison after police say they found him with an unlicensed gun and matching rounds that he claimed was purchased from a member of the force.
Ronald Singh was charged with having a .45 pistol along with seven matching rounds of ammunition in his possession at Goedverwagting, East Coast Demerara, on February 6.
Attorney Sandil Kissoon, who represented Singh at his arraignment at the Georgetown Magistrates' Courts, said his client requires serious medical attention which could be verified. The attorney also said Singh has an auto mechanic shop and he is also a distributor of spare parts and lubricants. He further mentioned that Singh provides for eight children and has a pregnant wife.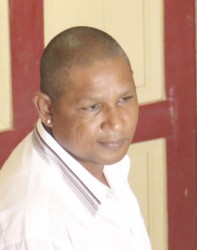 Kissoon also said that contrary to the police's facts, which state that the articles were found at Singh's home, they were in fact retrieved at the man's business place. He added that the area where the gun and ammunition were found is a general place that can be accessed by customers as well as Singh's 13 employees.
Additionally, Kissoon disputed the claim that Singh was present when the items were discovered, saying his client was informed of the discovery made by the police via a phone call. "I will be willing to withdraw this application if the prosecutor can prove a signed statement that my client admitted knowledge of the offence," Kissoon told the court.
However, Prosecutor Michael Grant voiced his objections to bail and argued that Kissoon failed to satisfy the court with special reasons for bail.
The prosecutor told the court that the police received information which led them to carry out a search on Singh's home, where the gun and ammunition were found in his living room. Grant further said Singh admitted to the police that he bought the firearm two years ago from a police officer, while adding that the man did not admit to the offence in a written statement but in an oral one given to officers.
After perusing the police statements, Chief Magis-trate Priya Sewnarine-Beharry upheld the prosecution's objection to bail and Singh was remanded to prison until February 11, when he will appear at the Sparendaam's Magistrate's Court.
Around the Web