By Kenesha Fraser
A family of three of Zorg, Essequibo Coast are traumatized and in shock after they were beaten and robbed on Sunday night at their home and business place.
Meanwhile, allegations were made by relatives that police took a long time to respond and by and neighbours that they had arrived on the scene intoxicated. Commander of 'G' Division Superintendent Kevin Adonis said no such reports had reached him, but they would nevertheless be investigated.
The Lot 108 Back Street, Zorg address has a shop in the bottom flat and the Khans also store goods in large quantities.
Speaking with Stabroek News, Bibi Shaneza Khan said this is the third time over the period of a year and a half that the family had been robbed.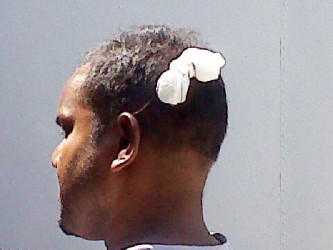 Shaneza, her 11-year-old son Asif Nawaz Khan and 38-year-old husband Asif Masode Khan sustained injuries about their bodies as a result of being beaten by four bandits who were armed with two guns and three cutlasses.
"I was in my kitchen talking to my mother on the phone [her mother is in Canada] around 8 [pm] when I see a man at my back door and he had on a mask. Meh son went lie down in the hammock and meh husband went locking up the place," Shaneza said. "When I see the man, I start screaming and then a next man come and tell me not to scream and that I must lie down on the floor."
The woman said that the two men had two accomplices who forced her husband into bottom flat kitchen, and demanded that he lie face down on the floor.
"My son was next to me. They ask we about the house key and I tell them to check on the table for it. Then they start ask we where we have the money and I tell them we don't have any money. One of the man say that if we ain give he the money, he gon kill me in front of my son. I start begging them and they start beating my husband and one of them lash my son and I just keep begging them," she said.
Shaneza was dragged into her shop by two men while the other two stayed in the kitchen with her husband and son.
"They ask me if I have any jewels and I tell them that all was upstairs in the press and then they ask me for the money and I tell them that the bag that went on the chair was all the money I had at the time," she related. "Them carry my son upstairs to show them the jewels then they tek clothes, belt and scotch tape and tie me up. One of them that had a cutlass take it and start rubbing it on my husband foot and they tell he they gon cut off he foot if he ain tell them where all the money and jewels deh."
While this was happening, Khan said, her mother was still on the phone and she immediately called her husband who lives in Lima.
"For about three quarter hour the men keep asking we for more money and beating we and telling we that they will burn we up. I beg them not to do anything to my son nor my husband. After my mother call my father he call my in-laws and they rush and come. My mother-in-law start hollering for me and I start calling her," she said.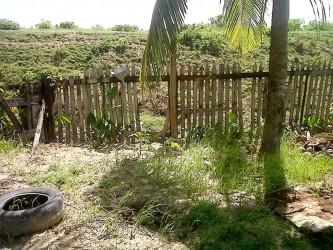 It was at this point that the bandits grabbed the bag with the money and escaped through a hole in the back fence. Shaneza said the robbers would have gained entry the same way. She said they would have pulled out some staves from the back fence to create a way in. Since the fence faces   the sea no one would have seen the men enter or escape.
"My front gate was lock so my sister-in-law jump the fence," Shaneza said, "and she come in and see my son, my husband and me on the floor and they cut the clothes and the belt from me and then I tell them what happen. My father call the Suddie Police Station and tell them and then mussy an hour after then the police come. Zorg is close to Suddie. If the police had come earlier [possibly] they woulda ketch the men.
"My son has to write common entrance soon and I couldn't send him to school today because he is in shock," Shaneza said.
The Suddie Police Station is approximately 10 minutes away from the Khan's residence/business place.
The woman said she sustained injuries to her head and shoulders; her son to his forehead and her husband sustained injuries to his head.
They were taken to the Suddie Public Hospital where they received medical attention and were sent home.
Asif Masode Khan told this publication that the bandits escaped with 4 cell phones, one laptop computer, one tablet, $250,000 that was in the bag, jewellery that he could not put a value to and snacks from the shop and refrigerator.
The family is now fearful for their lives and are hoping the perpetrators will be found.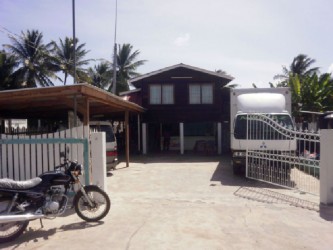 Meanwhile, relatives and neighbours of the family said they were displeased with the way in which the police at Suddie responded to the robbery report.
"When de police come last night, before dey get to work, them de drunk and de want to buse up…. I want dem name to go in the newspaper and leh everybody know about the star bai police dem that it get at Suddie. If the police deh come right away when dey get de call, they woudda able to ketch somebody but like dem had party and dem couldn't do dey wuk. One of the police de stink a rum. Shaneza father living in Lima and imagine he reach hay before de police," one neighbour who did not want her name mentioned said.
Superintendent Adonis said while he had no knowledge of the officers being under the influence of alcohol, the Sergeant of the Suddie Police Station along with other ranks who visited the home were reportedly chased away. Adonis said he visited the family yesterday morning and the family did not tell him about policemen being intoxicated.
"I have no reports of a rank being drunk. When I visited the home of the Khans I was not told of this allegation. However, an investigation will be conducted," he said.
Around the Web